Joined

Oct 5, 2017
Messages

33
Reaction score

0
Points

6
Malaysia Equity: Short-Term Pain, Long-Term Gain
Author: Jerry Lee Chee Yeong
Although many were expecting a severe fall in the Malaysia equity market right after the market reopened following the post-election holidays on 14th May 2018, the sell-off took about 1 week to materialise. FBMKLCI Index retraced from the post-election high of around 1875 pts to the lowest of 1714 pts, losing more than 8.5% within 2-week period. As of 12th June 2018, the local equity market recorded post-election losses of approximately -4.5%. In this article, we will be discussing the post-election development in Malaysia as well as the potential threats and opportunities ahead in the local market.

Moderation In 1Q GDP

On the macroeconomic front, Malaysia economic activity expanded at 5.4% y-o-y in the first quarter of 2018, falling short of consensus estimate for a 5.5% growth and the previous quarter' 5.9% expansion.
Figure 1: Malaysia's GDP Growth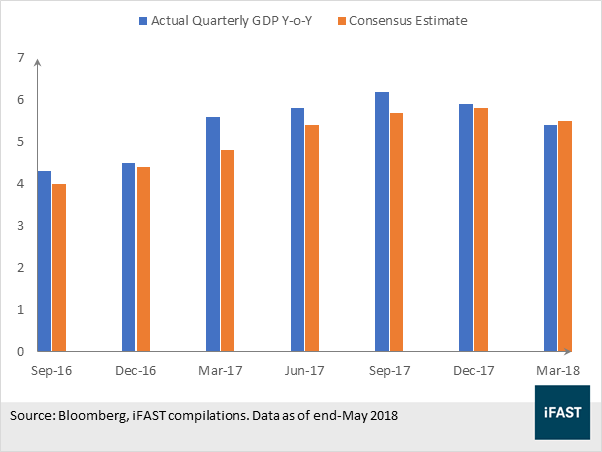 However, despite a slower economic growth, the local economy witnessed a broad-based expansion from all the five sectors, Services (+6.5%), Manufacturing (+5.3%), Agriculture (+2.8%), Construction (+4.9%) and Mining & Quarrying (+0.1%). From the expenditure approach, the backbone of Malaysia economy – private consumption maintained its strong momentum, growing by 6.9% over the last quarter, in line with the improving consumer sentiment in the first quarter of 2018. The local net exports also contributed positively to the 1Q GDP growth due to a contraction in imports of goods and services.

On the flipside, the decelerating growth in government expenditure (1Q 2018: 0.1% vs 6.9% in 4Q 2017) as well as the contracting public investment (-1.0% y-o-y) were the main factors that caused a slowdown in the overall economic activity.

Moving forward, a moderation in Malaysia economic activity growth is unavoidable due to the high base effect, lower government spending as well as the slowdown in private investment due to the uncertainties in government policy. However, we believe that the high base effect and the slowdown in private investment would be temporary issues and it is likely to be partially offset by the robust private consumption.
For the rest of the article, click here:
https://www.fundsupermart.com.my/ma...a-Equity-Short-Term-Pain,-Long-Term-Gain-9865