Joined

Mar 25, 2011
Messages

185
Reaction score

0
Points

10
Salam warga CG sekalian!!!​
Minyak Kelapa Dara atau juga dikenali sebagai Virgin Coconut Oil (VCO) adalah minyak kelapa yang dara iaitu minyak kelapa dara yang diproses tanpa menggunakan haba atau kimia yang menyimpan pelbagai khasiat. Kajian ke atas minyak kelapa dara telah dilakukan oleh pakar-pakar negara barat sejak awal tahun 1930an lagi.
Pakar-pakar tersebut merumuskan bahawa suatu kandungan yang terdapat dalam kelapa yang dipanggil lemak tepu dapat memberi pelbagai kesan positif ke ataas kesihatan manusia.
"Minyak kelapa dara adalah minyak paling menyihatkan di dunia"
Dr. Bruce Fife
Director of the southern Colorado
Chapter of the Weston A. Price Foundation

VCO (virgin coconut oil) atau minyak kelapa dara keluaran Catalyst menggunakan 100% bahan semulajadi. Sesuai diambil sebagai makanan tambahan dan amat bagus untuk kulit anda. Sesuai untuk yang mempunyai masalah seperti
jerawat, kulit muka berminyak, keletihan dan kurang tenaga, kulit muka yang kusam, selera makan yang terlalu tinggi.
KEBAIKAN VCO UNTUK KECANTIKAN​
Menghilangkan parut jerawat dan strechmark bagi wanita hamil
Menghilangkan jerawat, parut dan jeragat pada kulit
Kulit muka tidak akan berminyak lagi
Kulit akan menjadi lebih halus dan anjal
Lenguh-lenguh dan sakit seluruh badan dapat dihilangkan
KEBAIKAN VCO UNTUK KESIHATAN​
Meningkatkan daya tahan fizikal dan mental
Membantu mengurangkan berat badan dan meningkatkan kadar metabolisma
Melindungi tubuh dari risiko kanser, penyakit jantung, tekanan darah tinggi dan lain-lain.
Mengurangkan rasa senggugut
Mengurangkan dengkuran semasa tidur
Membantu kesuburan wanita
Menambah tenaga dalaman lelaki dan wanita
VCO boleh diambil oleh lelaki dan perempuan sebagai supplement dan sesuai untuk semua peringkat umur.
VCO Softgel berbentuk kapsul dan mudah untuk ditelan kerana tidak berbau berbanding dengan cecair. Ianya telah digunakan secara meluas dan terbukti berkesan! Dapatkan sekarang dan jadikan sebagai makanan tambahan untuk hidup yang lebih sihat dan ceria.
CARA PENGAMBILAN: 1 biji kapsul 2 kali sehari. Seeloknya diambil bersama air kosong. 1 kotak VCO Softgel mengandungi 60 biji kapsul.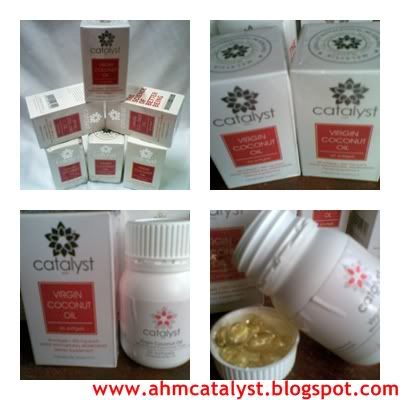 ​
HARGA SEMENANJUNG: [STRIKE]RM39.90[/STRIKE]
RM38.00
/kotak (exclude postage)
HARGA SABAH & SARAWAK: [STRIKE]RM43.90[/STRIKE]
RM42.00
/kotak (exclude postage)
KOS PENGHANTARAN (POSLAJU)
1-5 kotak: RM5 (semenanjung)
: RM7 (sabah&sarawak)
6-10 kotak: RM10 (semenanjung)
: RM12 (sabah&sarawak)
Jika anda ingin membuat tempahan, boleh terus hubungi saya:
E-MEL:
[email protected]
CALL/SMS: 0139111920 (Halim)
Tidak salah untuk melabur sedikit wang demi kesihatan anda!
​
Layari
http://ahmcatalyst.blogspot.com/
Last edited: