Joined

Jul 2, 2016
Messages

5
Reaction score

0
Points

3
MALAYSIA
Bumi Armada ties up with Indian firm for FPSO bids.
Bumi Armada Bhd is teaming up with India's Shapoorji Pallonji and Co Pte Ltd (SPCL) to bid for contracts in the floating production, storage and offloading (FPSO) vessel business. In a filing with Bursa Malaysia, Bumi Armada said the company and SPCL's unit, Shapoorji Pallonji Oil and Gas Pte Ltd, would set up a joint venture (JV) to be known as Shapoorji Pallonji Bumi Armada Godavari Pte Ltd in India. It said the setting up of the JV involved the interests of a director of Bumi Armada, Shapoorji Pallonji Mistry, which would design, fabrication, installation, charter, deployment, and operations and maintenance of a FPSO facility.
MMC Corp and Petra Energy plan collaboration
. MMC Corp Bhd and Petra Energy Bhd, through their respective units, have signed a memorandum of understanding (MoU) with the intention to team up on oil and gas (O&G)-related engineering and design projects. Both companies announced to Bursa Malaysia on Friday that their wholly owned subsidiaries MMC Oil & Gas Engineering Sdn Bhd and Petra Resources Sdn Bhd planned to combine resources and expertise to pursue selective opportunities in the O&G brownfield activities in the country.

YTL Corp proposes to take unit private
. YTL Corp Bhd has proposed to take its information technology unit, YTL e-Solutions Bhd, private at 55.0 sen per share through a voluntary share exchange offer. This will enable YTL e-Solutions' shareholders to exchange their stake in the company for shares in YTL Corp. Theengineering conglomerate said the offer would be undertaken at an offer price of 55.0 sen for every YTL e-Solutions' share to be satisfied through the issuance of ordinary shares of YTL Corp at an issue price of RM1.65.
Cahya Mata – Bina Puri JV clichés RM1.4b Pan Borneo Highway job.
A joint venture (JV) between Bina Puri Holdings Bhd and Cahya Mata Sarawak Bhd has received and accepted a letter of award from Lebuhraya Borneo Utara Sdn Bhd for the proposed development and upgrading of Pan Borneo Highway in Sarawak for a contract sum of RM1.4b. The award is for Phase 1 of the highway, for the construction of roads and bridges from Sg Awik to Bintangor Junction. The contract is for a period of47 months.
Court dismisses Scomi's request for proceedings against Prasarana.
Scomi Engineering Bhd's unit Scomi Transit Projects Sdn Bhd (STP) has failed to launch court proceedings against Prasarana Malaysia Bhd for giving it a notice to terminate the RM494.0m Kuala Lumpur Monorail expansion contract, but the contract remains in effect for now. Scomi Engineering said the High Court had dismissed last Friday the originating summons that STP filed to start legal proceedings against the KL Monorailoperator, which issued the notice of termination on June 9.
SapuraKencana banks on transformation process, small jobs.
SapuraKencana Petroleum Bhd is banking on its transformation process, which involves integrating expertise across the group and cost-saving measures, as well as taking on small jobs, to weather the challenging times in the oil and gas (O&G) industry. The president/group chief executive officer said the company has so far saved about RM500.0m from the transformation process and was looking to squeeze savings by as much as RM250.0m by year-end.
Yinson completes disposal of non-O&G units.
Yinson Holdings Bhd has announced the completion of the disposal of its non-oil and gas (O&G) subsidiaries to Liannex Labuan Ltd, and has proposed a special dividend of up to RM160.0m. The group said the proceeds of RM223.2m from the exercise comprises the disposal consideration of RM161.0m, which is based on the pro forma consolidated net assets of the disposal companies of RM158.0m, and inter-company loans of RM62.2m owed by the disposed subsidiaries.
FGV attracts suitors.
From going on an acquisition spree, Felda Global Ventures Holdings Bhd (FGV) is now a target company. Having aborted the stake acquisition ofIndonesia's Eagle High Plantations Tbk, FGV has attracted suitors who are looking at a possible corporate exercise with the plantation group. Among them is a strategy investment company affiliated with the Tradewinds Group, which is mulling over a stake purchase in FGV. It is believed that there are overtures to FGV on a tie-up with Tradewinds, although it is still at a preliminary stage. This could involve, among others,a stake sale from one of FGV's substantial shareholders, said a source.
Fitch downgrades Petronas' long-term credit ratings to 'A-', after M'sia's downgrade.
Following the Malaysian government's local bond downgrade, FitchRatings has decided to also downgrade Petronas's long-term foreign- and local-currency issuer default ratings to A-, from A, although the international rating agency has maintained the short-term foreign-currency issuer default ratings at F1. At the same time, Fitch said it has downgraded Petronas' foreign-currency senior unsecured rating and the rating on debt issued by Petronas Capital Ltd and guaranteed by Petronas to A- from A.
Leading Index up 0.9% in May.
The Leading Index (LI), which monitors Malaysia's economic performance in advance, rose 0.9% in May 2016 to 116.4 points from 115.4 points in April 2016. The Coincident Index (CI), which measures the current economic activity, decreased slightly by 0.2% in May 2016. "Concurrently, the diffusion index for LI was above 50.0% while CI was below 50.0%. This implies that Malaysia's economy will continue expanding at a slower rate in the months ahead," it added.
Government mulls stimulus programme to spur growth.
The government is mulling the possibility of introducing a stimulus programme to spur economic growth, Second Finance Minister said. He said such action, however, is still in the preliminary phase as the government is going through the engagement process with some focus groups. "We also have to be very mindful that in anything we want to do, there is a need to look at our capacity, (which is) the government's ability to ensure the revenue needed," he said.
MIER expects domestic demand to remain Malaysia's growth engine.
The Malaysian Institute of Economic Research (MIER) expects domestic demand to continue to be the engine of Malaysia's growth, which is forecast to expand 4.2% this year. MIER Executive Director said the global economic growth failed to get its momentum as recoveries for some economies were still fragile. On the domestic front, he said domestic demand is expected to increase in favour of private consumption.
Businesses still in cautious mood - MIER.
MIER recorded improvements in the business conditions index (BCI) for 2Q16, but believes businesses are still cautious on their outlook due to several key events recently. "With the external Brexit and internal 1MDB issues that indirectly affect the confidence on ringgit, we expect to see an impact through our financial channel, including the stock market and exchange rate," MIER executive director said. MIER BCI registered a gain of 13.6 points to 106.4 in 2Q16.
GLOBAL
Oil near a two-month low as U.S.
drillers ramp up operations. Oil traded near the lowest close in two months as U.S. oil producers continued to revive drilling in the shale patch, adding rigs for the fourth consecutive week. Rigs targeting oil in the U.S. rose by 14 to 371 last week, Baker Hughes Inc. said. US crude for September delivery fell as much USD0.2 to USD44.0 a barrel on the New York Mercantile Exchange. Brent for September settlement dropped as much as 0.3% to USD45.6 a barrel on the London based ICE Futures Europe exchange.
G20 will use 'all policy tools' to lift growth as Brexit weighs.
The world's biggest economies will work to support global growth and better share the benefits of trade, policymakers said. A communiqué issued by the G20 ministers at the end of the meeting said Brexit had added to uncertainty in the global economy where growth was "weaker than desirable". "We reiterate our determination to use all policy tools monetary, fiscal and structural – individually and collectively to achieve our goal of strong, sustainable, balanced and inclusive growth," it added.

World Bank's President sees disappointing growth on Brexit.
World Bank President said continued uncertainty following the U.K.'s vote to leave the EU could hurt global growth. "We actually thought the U.S. was solid, the Eurozone seemed to be getting better, even Japan seemed to be doing a little bit better," he said. "Brexit was a big hit, and we're still trying to understand exactly what the implications are, but it looks like global growth will be disappointing again."
Rock-bottom rates creates fiscal space for G20 - OECD.
The world's leading economies have discussed how to take advantage of their lower debt costs to spend more on investment as a way to boost weak economic growth, the head of the OECD said. "Already lower interest rates create more fiscal space," OECD Secretary General said. The focus has turned to what governments can do through increased spending and reforms to make their economies more efficient.
ASIA
World Bank said to plan Special Drawing Rights bonds in China.
The World Bank is planning to sell bonds in China denominated in the International Monetary Fund's Special Drawing Rights, people familiar with the matter said. Issuance of the securities may be as soon as next month. They would be the first in SDR from the lender, according to data compiled by Bloomberg. The People's Bank of China Governor had said earlier this year that Chinese officials want to gradually increase use of the funding tool.
IMF sets new SDR calculation method for prepare for Yuan's entry
. The IMF said it adopted a new methodology for calculating the currency amounts in the Special Drawing Rights (SDR) the fund uses for transactions, partly to ensure that China's Yuan meets the IMF Board's intended weighting. The relative amounts of dollars, euros, yen, pounds and Yuan to achieve these weightings in the SDR basket will be set on Sept. 30 and will be fixed for five years. The IMF said its previous method of calculating currency amounts in past rebalancing had caused deviations from the intended weights due to complex rounding calculations and other issues.

Borrowing costs for Chinese firms is key obstacle to private investment
. Borrowing costs and access to funding are the key obstacles to private investment in China, a senior official at the top economic planning agency said on Monday. Growth in investment by private firms fell to a new record low in the first half of the year as businesses retrench in the face of a sluggish economic outlook and weak exports. The head of the NDRC's investment office said that difficulty in obtaining financing is the prominent problem that companies face now.
Japan to miss FY2020 GDP target of JPY600.0t, retreats further from goal.
Japan will not meet its goal of reaching nominal GDP of JPY600.0t (USD5.7t) in fiscal 2020, and may not achieve it even by fiscal 2024 if growth stays sluggish, the government's projections showed on Tuesday. Japan now expects nominal GDP of JPY551.0t in the fiscal year beginning in April 2020 assuming the current pace of growth, the Cabinet Office said. Japan also expects to have a primary deficit of JPY9.2t if growth remains weak.
Japanese Prime Minister's plan for USD265b in stimulus puts pressure on BOJ to ease
. Japanese Prime Minister said his government would compile a stimulus package of more than USD265b next week to reflate the flagging economy. It will consist of JPY13t in "fiscal measures," which likely includes spending by national and local governments, as well as loan programs. The Prime Minister's announcement pressures the Bank of Japan to match his big spending plan with additional monetary easing at its rate review ending on Friday.
Japan to raise minimum wage by 3.0% to ignite consumer spending
. Japan's government said on Wednesday it will raise the minimum wage by 3.0% this fiscal year as part of a stimulus package intended to strengthen domestic demand. Raising wages is an urgent task for policymakers as Japan's Prime Minister is keen to ramp up consumer spending, which is seen as crucial to boosting domestic demand and pulling the economy out of 15 years of deflation. The government is drafting a stimulus package that could be unveiled in coming days.
South Korea GDP growth quickens pace
. South Korea's economy improved slightly in the second quarter, helped by private consumption and construction investment, although slowing global trade continued to weigh on the export-dependent nation. GDP expanded 0.7% QoQ in the April to June period, after growing 0.5% in the first quarter. The annual growth rate was 3.2%. Private consumption rose 0.9% from the previous quarter while construction investment and capital investment jumped 2.9% each.
South Korea plans USD9.7b addition to budget.
South Korea announced Friday a USD9.7b supplement to its budget to support its lacklustre economy, as the risk of corporate restructuring and huge layoffs weighs heavily on growth. The additional government spending plan comes as the export-led economy is losing steam on sluggish global trade and weak domestic demand. The additional budget will focus on financing corporate restructuring by bolstering a capital buffer against bad loans and creating jobs for laid off workers, the ministry said.
South Korea to expand tax benefits for R&D spending.
South Korea's government plans to expand tax benefits for research and development of robotics and other technologies as it seeks out industries that could become new economic growth engines. Up to 30% of R&D expenses will be tax deductible for companies across 11 key sectors starting 2017, the Ministry of Strategy and Finance said in its annual review of the tax code.
Australia inflation slowdown sets scene for rate cut
. Australian consumer prices rose at the slowest annual pace since 1999 last quarter while core inflation remained at a record low, setting the stage for a cut in interest rates as early as next week. The headline CPI index rose just 1.0% in the year to June, while key measures of underlying inflation held at 1.5%, all well below the Reserve Bank of Australia's (RBA) target band of 2.0 to 3.0%. The Australian Bureau of Statistics reported its headline CPI rose 0.4% last quarter, from the first quarter when it fell 0.2%.
Singapore Q2 job layoffs hit 7-year high.
Job layoffs in Singapore hit a seven-year high in the second quarter while the jobless rate edged higher, in a sign of growing labour market slack at a time when economic growth has been sluggish. Singapore's unemployment rate rose to 2.1% in the second quarter, a level last seen in the first quarter of 2014, preliminary labour market data from the Ministry of Manpower showedon Thursday.
Singapore central bank: current policy appropriate.
The Singapore central bank's current monetary policy stance remains appropriate and only a worsening in the global economy or significant shift to the inflation outlook would prompt a change, its managing director said. The Monetary Authority of Singapore (MAS) expects headline inflation to turn positive in the near future. Economic growth was expected to remain sluggish, reflecting global weakness. The MAS was closely watching risks related to Brexit, the U.S. economic recovery and China's slowdown.
Thai finance ministry cuts export forecast, maintains GDP outlook
. Thailand's economy is still expected to grow 3.3% this year as higher government spending and investment helps offset weaker exports, the finance ministry said on Thursday. But the ministry now expects exports, a key driver of the economy, to contract 1.9% this year, worse than the 0.7% fall it predicted three months ago. Exports, worth about two-thirds of Thailand's economic output, have declined each of the past three years.
Indonesia brings back veteran Indrawati as finance minister.
Indonesian President picked Sri Mulyani Indrawati as his new finance minister, returning her to a post she held six years ago in which she built up a reputation as a tough technocrat and reformer. She will replace Bambang Brodjonegoro in the second cabinet reshuffle since the president took office under two years ago. It signals his commitment to push through an ambitious infrastructure program to transform Indonesia's economy, and meet a pledge of boosting growth to 7.0%.
USA
U.S. Markit manufacturing PMI hits 9-month high in July.
Activity in the US manufacturing sector registered a larger-than-expected expansion to a 9-month high in July. Markit said that its flash manufacturing PMI rose to 52.9 in July from the prior month's final reading of 51.3. That was the highest level since October 2015. The report further indicated that new business volumes expanded at the fastest pace since October 2015, while showing the strongest increase in manufacturing payroll numbers for 12 months.

US trade gap widens in June.
The advanced trade gap widened to a seasonally adjusted $63.3 billion from $61.1 billion in June and some of the imported goods boosted retail inventories, the Commerce Department said Thursday. The June trade gap was wider than the $61.0 billion gap estimated in a poll of economists. Both import and exports grew in June with imports rising faster. Imports rose $3.3 billion to $183.5 billion while exports rose $1.1 billion to $120.2 billion. The advanced report excludes services, a category that tends to work in the US's favour.
Fed leaves rates unchanged, says risks to outlook reduced.
The Federal Reserve left interest rates unchanged on Wednesday but said near-term risks to the U.S. economic outlook had diminished. The U.S. central bank said the economy had expanded at a moderate rate and job gains were strong in June. It added that household spending also had been "growing strongly," and pointed to an increase in labour utilization. The Fed noted, however, that inflation expectations were on balance little changed in recent months, and gave no firm indication of whether it would raise rates at its next policy meeting in September.
EUROPE
Solid Eurozone lending supports ECB's cautious stance.
Lending growth to Eurozone companies and households picked up last month, suggesting the bloc's slow but steady economic recovery remains on track and easing pressure on the ECB to boost monetary stimulus further. Lending growth to households and companies both picked up to 1.7% in June from 1.6% in May. The annual growth rate of the M3 measure of money picked up as expected to 5.0% in June from 4.9% in May.
Brexit rewrites UK budget rules as borrowing set for first big rise since 2010
. Britain could borrow nearly GBP65.0b (USD85b) more than planned in the next couple of years as new finance minister Philip Hammond seeks to 'reset' government budget policy to ease the shock of last month's vote to leave the EU. Ratings agencies and economists widely expect borrowing to rise materially next year for the first time since 2010. Hammond said the darker post-Brexit outlook meant policies the Conservative government had pursued since 2010 needed to change.
UK economy picks up speed in Q2
. Britain's economy picked up during a second quarter that concluded with the vote to leave the EU, helped by the biggest upturn in industrial production since 1999. Second quarter GDP grew by 0.6%, up from 0.4% in Q1, the Office for National Statistics said. Economists polled had expected growth to hold steady at 0.4%. Output in the three months to June was 2.2% higher than a year earlier, the strongest annual growth in a year. The ONS said industrial production expanded 2.1% QoQ - its best performance since 1999.
British PM: Immigration control must be part of EU-UK deal
. British Prime Minister Theresa May says any future deal on cooperation between her country and the European Union has to take into account "a clear message" from the Brexit vote over immigration control. After meeting Thursday with her Slovak counterpart Robert Fico, whose country holds the rotating EU presidency; May says Britain also wants "the best possible deal on trade in goods and services."
German private sector growth brushes off Brexit, hits year-high in July
. German private sector growth hit its highest level so far this year, suggesting Germany's economy is brushing off Brexit uncertainty. Markit's flash composite PMI rose to 55.3 from 54.4 in June. This was the highest reading since December 2015 and beat a consensus forecast for 53.7. The PMI sub-index for manufacturing inched down to 53.7 as companies added staff at a slower rate. The sub-index for services rose to 54.6 helped by an increase in business activity.
Moving Forward

The local bourse was fluctuating rather sharply this week for several reasons. US authorities' probe into 1MDB might have dictated Malaysian stock market sentiment a little. Falling crude oil prices dampened sentiment, as investors reassessed US data underlining the glut in petroleum and Iraqi crude exports were also on the rise. The Ringgit weakened throughout the week in tandem with crude oil prices.
The local bourse still showed signs of resilience and climbed 10.84 points mid-week as investors bargain hunted beaten-down stocks. It is believed that US and emerging markets like Malaysia will continue to benefit from funds flowing out of Europe. As European and Japanese bond yields have plunged deeper into negative territory, investors are rushing to US and emerging markets where yields are higher and economic prospects look better.
Later in the week foreign investors took profit and cold cautiously ahead of the outcome of the US Federal Reserve and Bank of Japan's meetings. Asian markets remained steady after the Japanese Government announced further economic stimulus package and the Federal Reserve left rates unchanged and provided a positive assessment of the US economy. Both were good news for the local bourse but KLCI was down however on news Fitch downgraded Malaysia's long-term ringgit denominated bonds to A- from A. It also prompted Fitch to downgrade the debt of government-linked companies including Petronas.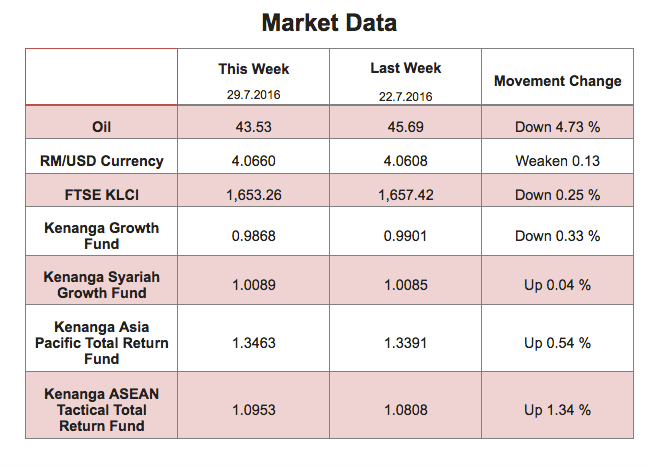 Gradual pick up.
Based on our current assessment, the rather tepid and prolong economic growth trend is expected to bottom out by mid-2016. Our preliminary analysis showed a possibility of higher GDP growth in 2017 of 4.9%. But the caveat is that it all depends on how fast the regional economies, mainly its major trading peers, recover from the fast changing global economy.
External conditions such as continued weak demand from a slowing Chinese economy, slower than expected recovery in developed economies due to adverse events such as Brexit, volatile commodity prices, escalating geopolitical risks are among other factors that could delay the cyclical recovery expected in regional economies.
A better Long-Term outlook.
As the global economy may see some creeping improvement following the outcome of various measures by both advance and developing countries to prop up growth in their respective countries, it is also expected to partly contribute to an incipient recovery in the domestic economy beginning in 2H16or early 2017. These combined factors shaped our long term viewpoint of further improvement in the Malaysian economy going forward.
Hence, it would be fairly reasonable to expect Malaysia's economic growth to fall within 4.5% to 5.0% in 2017 and slightly higher in the subsequent years barring any unforeseen risk to global growth.
Meanwhile, with the expectation of the first phase of the Mass Rail Transit project to be up and running by the 2H16, it would help to push-up the multiplier effect another notch higher and bring about a much needed boost in productivity and growth.
At this juncture, we remain steadfast to outperforming the index again this year and are cautiously optimistic on the 2H16. Stock picking remains key for outperformance in these global market conditions.
Last edited: