Joined

Mar 14, 2017
Messages

693
Reaction score

0
Points

20
WTI: negative dynamics

06/04/2020
Despite the opening of today's trading day with the gap down (due to the fact that the OPEC+ teleconference was postponed to Thursday), during the Asian session, oil prices rose again. At the beginning of today's European session, WTI crude oil is traded near 27.00 mark.
OPEC+ was expected to resume consultations as early as Monday to consider the possibility of a coordinated reduction in production by 10 million barrels per day. OPEC also hoped that the United States would join the teleconference, however, the event was postponed for four days amid some disagreement between Saudi Arabia and Russia, and also because of the US's unwillingness to decide on its own production cuts.
Now the Organization of Petroleum Exporting Countries (OPEC) will convene in a virtual meeting on Thursday with the participation of several other oil producing countries, including Canada and Russia. Negotiations are expected to mark the end of the price war between Saudi Arabia and Russia, which led to a record collapse in oil prices over the past 30 days.
Oil market participants are optimistic about the outcome of this teleconference, even if they are more modest than a 10 million barrels a day reduction in oil, as Russian President Putin said last week.
From a technical point of view, the first signal for purchases (breakdown of the resistance level of 22.50 - ЕМА200 on the 1-hour chart) worked.
If the growth continues, the immediate targets will be the resistance levels 28.90 (local maximum and ЕМА144 on the 4-hour chart), 30.80 (Fibonacci level 23.6% of the upward correction to the fall from this year's highs near 65.65 to the local minimum 20.05), 32.30 (ЕМА200 on the 4-hour chart).
However, long-term purchases of oil futures should still be abstained. A coronavirus pandemic and a slowdown in the global economy will put pressure on oil prices in the long run for at least several weeks, or even months.
So far, a strong negative momentum prevails, holding oil quotes near multi-year lows.
Support Levels: 26.00, 23.80, 22.50, 22.00, 21.00, 20.05

Resistance Levels: 28.10, 28.90, 30.80, 32.30, 37.40, 42.80, 44.00, 48.20, 50.00, 52.00



Trading Recommendations
Sell by market. Stop-Loss 29.10. Take-Profit 26.00, 23.80, 22.50, 22.00, 21.00, 20.05
Buy Stop 29.10. Stop-Loss 25.80. Take-Profit 28.90, 30.80, 32.30, 37.40, 42.80, 44.00, 48.20, 50.00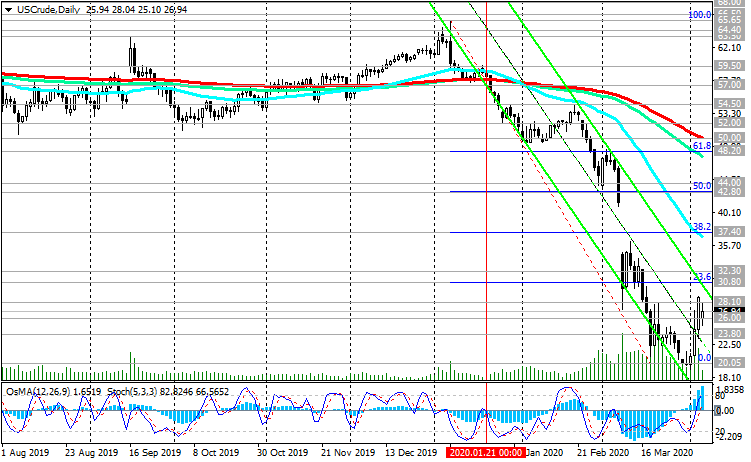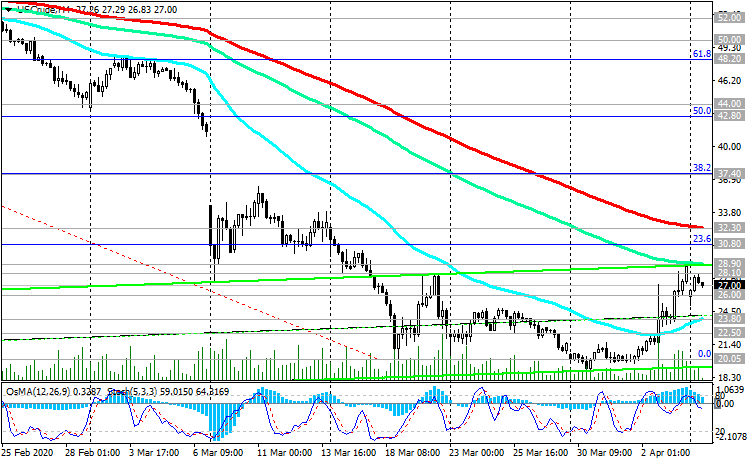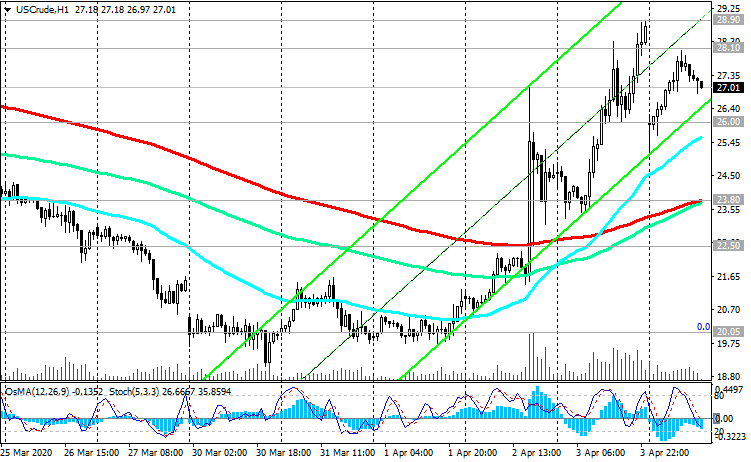 *) For up-to-date and detailed analytics and news on the forex market visit Tifia Forex Broker website tifia.com