Joined

Dec 9, 2009
Messages

481
Reaction score

35
Points

20
SeaMonkey is made by The Mozilla Foundation, same people who make Firefox.
SeaMonkey is an all-in-one web browser suite that uses the same engine that Firefox does. It's like Firefox but way better because instead of having multiple apps to use for web browsing, email and IRC, SeaMonkey has all of these built in.
You can easily transfer all of your bookmarks and settings from Firefox and Thundarbird ( including all existing mail) into SeaMonkey.
It is super handy to just glance down at the toolbar while browsing and be able to see if you have new email and you can open the mail program and reply right away without having to open a separate application. SeaMonkey's built in email client can do everything Thunderbird can do.
Many of the more popular extensions and plugins work with SeaMonkey just like Firefox.
In fact, as far as I know, SeaMonkey is the Only internet suite that combines a browser, email/newsgroups and an IRC client into one package.
Download here:
http://www.seamonkey-project.org/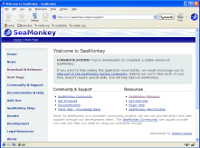 Browser window after startup.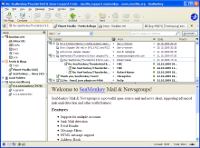 Mail & Newsgroups, with multiple tabs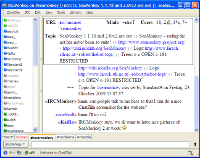 IRC communication with ChatZilla
Enjoy!#:-S