CHEAPEST price with the HIGHEST quality Website
by Webbgi
Realizing your imagination ..
After years of planning, we are proud to introduce
WEBBGI.COM
to Malaysia! With our Headquarters located at
Brisbane,Australia,
we are delighted to have expanded to countries like
Ukraine, Thailand and recently New Zealand.
WEBBGI.COM
is established in 2002 by groups of creative art developers around the world that meet online. Our mission is to combine the beauty of art and contemporaries of business world by creating intelligent web pages.
Our purpose is to provide great services and creative designs in the shortest time and lowest price possible. This low-cost idea is specifically designed for newly formed companies and individuals to get their website up and running without any hassle and burning a hole in their pockets.
An experienced web design company is the main key in the competitive world of business. Your logo, website and the way you present your services are your calling card to the world. Let them reflect the kind of quality business you provide.
WEBBGI.COM
, we use the latest web design technology coupled with rich and artistic design elements to place your business in a good light. Whether you are looking to update a current look or create a new image for your business, we will help your business shine.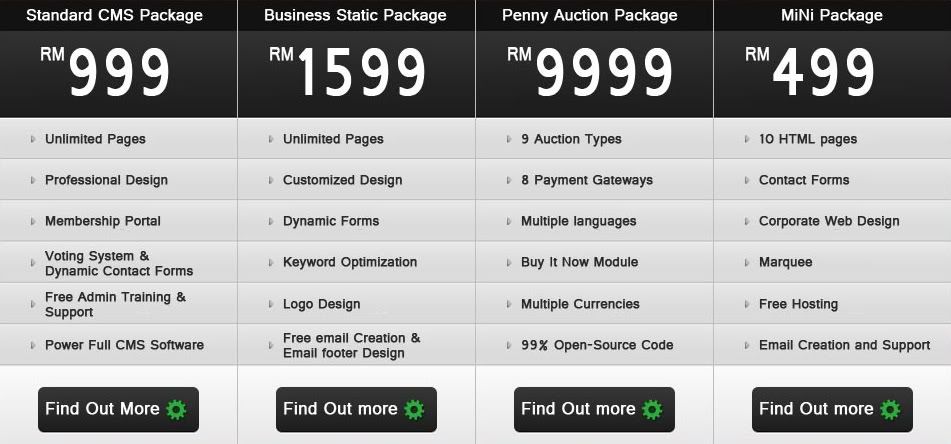 Guaranteed the lowest price in Malaysia!
Starting from as low as RM499! <- Click here for pricing and instant quotation
Earn extra $$ for referring a friend! 10% of the total bill is yours!
Have you ever …

• Wish that you have the $$ to start your own business?
• Feel tired of being employed and taking orders?
• Thought of finding a part time or work at home jobs because your current salary is not covering your expenses?
• Feel that you are going no where in your career path with the competitions around?
Start now! :hyper:
• Save Money and Time
• Work At Any Place And Any Time
• Open 24 hours a day, 365days a year with
NO
breaks,
NO
holidays
• Accessible by anyone from any part of the world!
Internet Millionaire under 30 :
#1 Mark Zuckerberg – Aged 26yrs ->
www.facebook.com
#2 Andrew Mason – Aged 29yrs ->
www.groupon.com
#3 Matthew Mullenweg – Aged 26yrs ->
www.wordpress.com
Start your business today! You don't have to find them. Help them find you..
Now,
EVERYONE
have the opportunity to relish their hidden talent and ideas to co-workers, friends, family and loved ones! :thumbs:
Call 017 633 7063 for inquiries
Call 017 633 7063(Benjamin)/012 644 8066(Alycia) for inquiries
www.webbgi.com