Joined

Feb 18, 2006
Messages

4,930
Reaction score

111
Points

33
Previous thread here : Liverpool FC - 18 EPL, 5 UCL, 3 UEFA, 7 FA, 8 Piala Liga (Part 2)
Skuad Liverpool 2014/15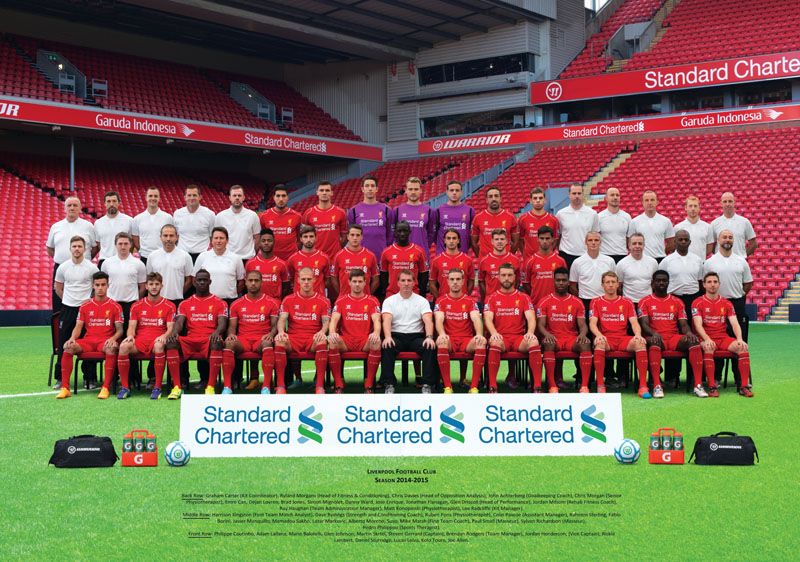 Barisan Belakang: Chris Davies (Head of Opposition Analysis), John Achterberg (Goalkeeping Coach), Chris Morgan (Senior Physiotherapist), Andre Wisdom, Martin Kelly, Brad Jones, Simon Mignolet, Peter Gulasci, Tiago Llori, Victor Moses, Glen Driscoll (Head of Performance), Jordan Milsom (Rehab Fitness Coach), Matt Konopinski (Physiotherapist), Ray Haughan (Team Administration Manager), Lee Radcliffe (Kit Manager).

Barisan Tengah: Graham Carter (Kit Coordinator), Paulo Barreira (Physiotherapist), Dr Zaf Iqbal (Head of Medicine), Colin Pascoe (Assistant Manager), Raheem Sterling, Iago Aspas, Luis Alberto, Mamadou Sakho, Sebastian Coates, Aly Cissokho, Jordon Ibe, Jonathan Flanagan, Mike Marsh (First Team Coach), Paul Small (Masseur), Sylvan Richardson (Masseur).*

Barisan Depan: Philippe Coutinho, Luis Suarez, Jordan Henderson, Glen Johnson, Martin Skrtel, Steven Gerrard (Captain), Brendan Rodgers (Team Manager), Daniel Agger (Vice Captain), Jose Enrique, Daniel Sturridge, Lucas Leiva, Kolo Toure, Joe Allen.
STADIUM ANFIELD

​

Nama Penuh

LIVERPOOL FC

Panggilan

THE REDS

Penubuhan

15 Mac 1892

Stadium

ANFIELD

Kapasiti

45,276

Pemilik

JOHN W. HENRY & TOM WERNER (New England Sports Ventures)

Pengerusi

TOM WERNER

Pengurus

BRENDAN RODGERS

Liga

PREMIER LEAGUE

Musim 2013–14

2
Liverpool FC merupakan kelab bolasepak English Premier League yang berasal dari Liverpool, England. Kelab ini telah memenangi 18 gelaran liga, 7 Piala FA dan lapan Piala Liga. Liverpool juga telah memenangi kejuaraan Eropah lebih banyak berbanding kelab English yang lain iaitu 5 Piala Eropah, 3 Piala UEFA dan 3 Piala Super UEFA.

Liverpool telah diasaskan pada 1892 dan menyertai liga bolasepak pada tahun berikutnya. Kelab ini telah bermain di Stadium Anfield sejak ia mula ditubuhkan. Zaman kegemilangan di dalam sejarah Liverpool ialah pada era 70an dan 80an apabila Bill Shankly dan Bob Paisley memimpin kelab dengan 11 juara liga dan 7 trofi eropah.

Shankly Gates
Paisley Gateway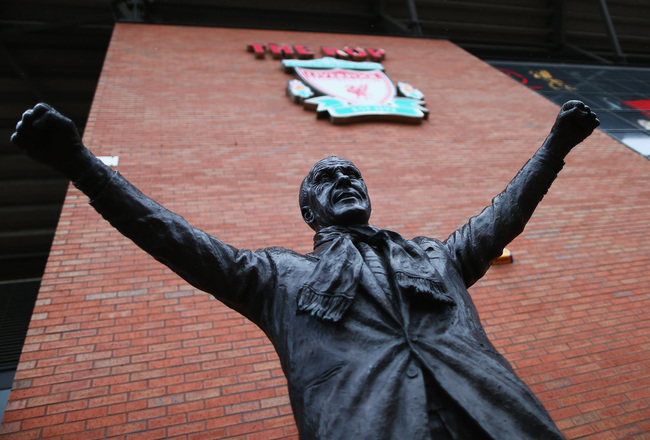 Shankly Statue

Penyokong kelab telah terlibat dalam dua tragedi besar. Tragedi pertama ialah bencana di Stadium Heysel pada 1985 di mana penyokong Liverpool di dakwa menyebabkan dinding stadium runtuh lalu membunuh 39 penyokong Juventus. Tragedi kedua ialah pada tahun 1989, berlakunya bencana di Stadium Hillsborough di mana 96 penyokong Liverpool telah mati apabila pagar memisahkan padang dan tempat duduk penonton roboh.



Liverpool mempunyai persaingan sejak sekian lama dengan jirannya iaitu Everton dan Manchester United. Warna jersi pasukan adalah merah sepenuhnya apabila pengurus Bill Shankly mengubahnya dari merah putih sejak 1964. Lagu rasmi kelab adalah "You'll Never Walk Alone".
http://www.youtube.com/watch?v=ma3Nax8yyOE




PENJAGA GOL
1 Brad Jones
22 Mignolet
52 Ward

PERTAHANAN
2 Glen Johnson
3 José Enrique
4 Kolo Toure
6 Dejan Lovren
16 Sebastián Coates (dipinjamkan ke Sunderland)
17 Sakho
18 Alberto Moreno
19 Javi Manquillo (dipinjam dari Atletico Madrid)
26 Llori (dipinjamkan ke Bordeaux)
37 Martin Škrtel
38 Jon Flanagan
47 Andre Wisdom (Dipinjamkan ke West Brom)
49 Jack Robinson

PEMAIN TENGAH
8 Steven Gerrard (Kapten)
10 Philippe Coutinho
11 Oussama Assaidi
14 Jordan Henderson
20 Adam Lallana
21 Lucas
23 Emre Can
24 Joe Allen
30 Suso
31 Raheem Sterling
33 Jordon Ibe
50 Lazar Marković

PENYERANG
9 Rickie Lambert
15 Daniel Sturridge
29 Fabio Borini
45 Mario Balotelli
Origi (dipinjamkan ke Lille)
Aspas (dipinjamkan ke Sevilla)


Ogos 8: Stoke City (A) = 0-1

Ogos 15: Bournemouth (H) = 1-0



Ogos 22: Arsenal (A) = 0-0



Ogos 29: West Ham United (H)

September 12: Manchester United (A)

September 19: Norwich (H)

September 26: Aston Villa (H)

Oktober 3: Everton (A)

Oktober 17: Tottenham (A)

Oktober 24: Southampton (H)

Oktober 31: Chelsea (A)

November 7: Crystal Palace (H)

November 21: Manchester City (A)

November 28: Swansea City (H)

Disember 5: Newcastle United (A)

Disember 12: West Brom (H)

Disember 19: Watford (A)

Disember 26: Leicester (H)

Disember 28: Sunderland (A)

Januari 2: West Ham (A)

Januari 12: Arsenal (H)

Januari 16: Manchester United (H)

Januari 23: Norwich (A)

Febuari 2: Leicester (A)

Febuari 6: Sunderland (H)

Febuari 13: Aston Villa (A)

Febuari 27: Everton (H)

Mac 1: Manchester City (H)

Mac 5: Crystal Palace (A)

Mac 12: Chelsea (H)

Mac 19: Southampton (A)

April 2: Tottenham (H)

April 9: Stoke City (H)

April 16: Bournemouth (A)

April 23: Newcastle United (H)

April 30: Swansea City (A)

Mei 7: Watford (H)

Mei 15: West Brom (A)

MyLFC boleh juga dihubungi melalui:


Facebook

WhatsApp
Last edited: