Joined

Sep 17, 2011
Messages

8,927
Reaction score

671
Points

126
© Provided by Harian Metro
Syarikat penyedia telekomunikasi terkemuka, YTL Communications melancarkan inisiatif pakej baharu dikenali sebagai 'YES Kasi Up' yang dicipta untuk membantu rakyat yang memerlukan bantuan aliran tunai.
Ia juga bertitik tolak kepada situasi semasa yang mencabar dan aliran tunai menjadi objektif utama setiap rakyat.
Pakej YES Kasi Up itu juga adalan program pertama yang menawarkan pulangan wang tunai kepada pengguna sekali gus membantu menghadapi saat mencabar pada ketika ini.
Inisiatif ini menampilkan pelan data paling mampu milik di dalam pasaran telekomunikasi dan menggunakan model rujukan pelanggan sekali gus pengguna YES yang dirujuk akan mendapat ganjaran tunai (referral programme).
Pengarah Urusan YTL Communications Datuk Yeoh Seok Hong berkata, pelan YES Kasi Up Prabayar 15 menawarkan tempoh sah selama 30 hari berharga RM15 sebulan untuk penggunaan data 10GB.
Menurutnya, ia menawarkan tiga faktor utama yang menjadikannya pelan terbaik iaitu termurah di dalam pasaran telekomunikasi selain menawarkan jumlah data tertinggi serta tempoh sah paling lama.
"Jika dibandingkan, pelan serupa yang ditawarkan oleh syarikat telekomunikasi lain di dalam pasaran hari ini adalah sekitar RM30 sebulan.
"Bagi pelan YES Kasi Up Pasca Bayar 49 pula, ia menawarkan langganan percuma selama enam bulan pertama bagi kontrak selama dua tahun pada harga RM49 dengan data 100GB.
"Data dianggap sebagai satu kemudahan asas, ia sama penting berbanding elektrik dan air," katanya.
Beliau berkata, sebagai penyedia kemudahan ini, pihaknya mesti bersikap inklusif sekali gus inisiatif itu mampu melakukan perubahan sebenar dengan menurunkan harga dan bukannya sekadar memberikan data tambahan tetapi tetap mengekalkan harga tinggi.
"Isu paling meruncing bagi rakyat hari ini adalah masalah aliran tunah dan prihatin terhadap keadaan itu, kami menawarkan langganan percuma untuk enam bulan pertama dalam pelan pasca bayar kami.
"Ia juga membolehkan pengguna menggunakan wang berkenaan untuk barang keperluan harian yang penting.
"Pelanggan bukan hanya boleh berjimat dengan YES Kasi Up, mereka juga boleh menjana pendapatan dan berkongsi hasil usaha mereka. Katanya, ,odel program rujukan pelanggan ini sangat mudah dan boleh difahami oleh semua orang.
"Ia tidak memerlukan kemahiran istimewa, tiada latihan, tiada modal diperlukan. Hanya rujuk YES kepada rakan serta ahli keluarga dan dapatkan ganjaran tunai," katanya.
© New Straits Times Press (M) Bhd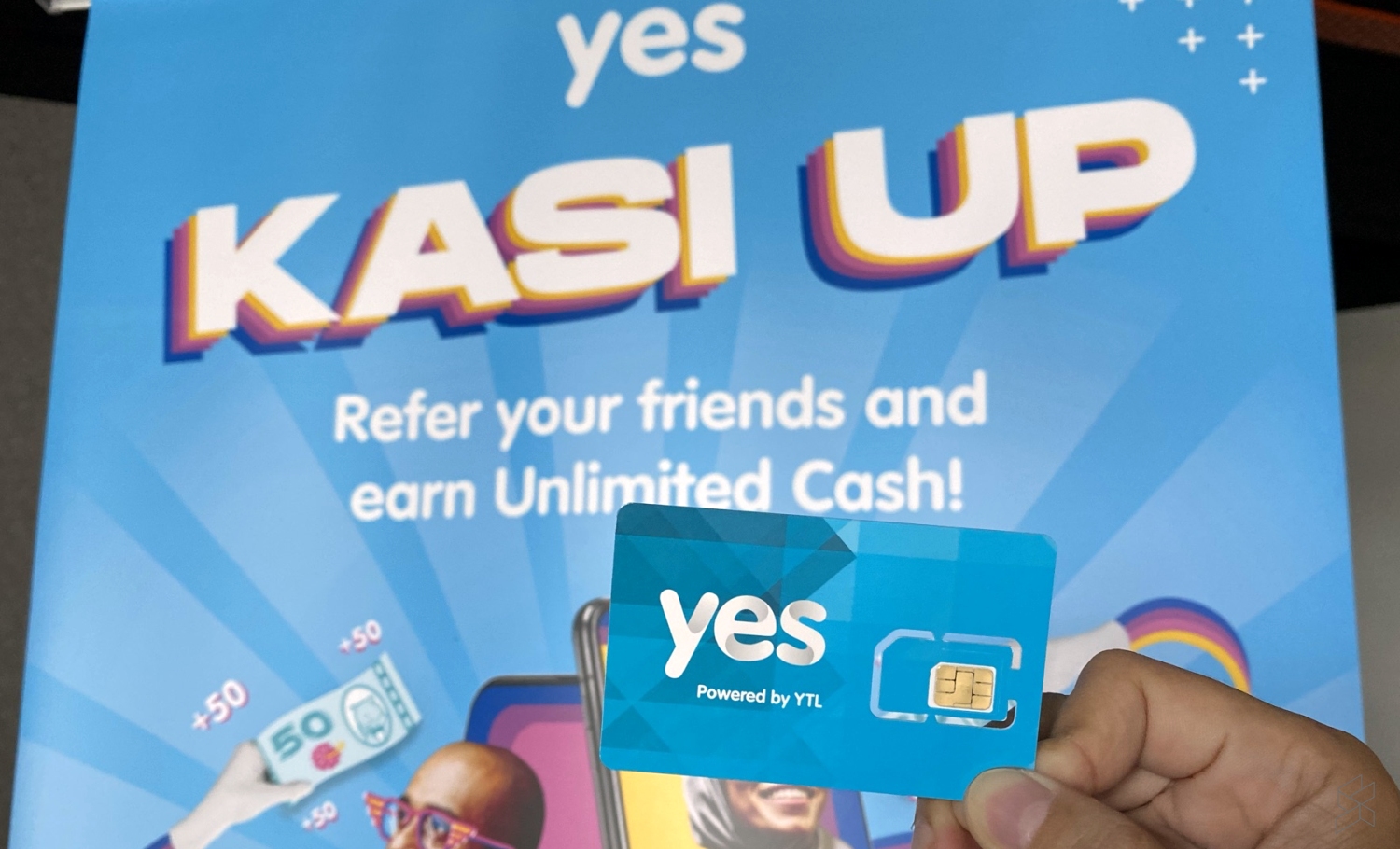 Yes Kasi Up postpaid and prepaid plans aim to offer the lowest cost per GB in Malaysia. The referral program allows users and their friends to earn up to RM50 in cash.
www.soyacincau.com
Yes Menawarkan Kad SIM Prabayar RM1 Melalui Shopee – 10GB Data LTE, Penghantaran Percuma

Yes telah pun memperkenalkan pelan prabayar baru dinamakan

Yes Kasi Up

, dimana melaluinya mereka menawarkan pelan 10GB pada harga langganan RM15 sebulan.

Kini, selari dengannya, Yes turut menawarkan

promosi khas melalui Shopee

, dimana pengguna boleh mendapatkan kad SIM prabayar Yes pada harga bayaran

RM1

sahaja. Menariknya, Yes turut menanggung kos penghantaran, sekaligus membolehkan anda mendapatkan kad SIM berkenaan pada harga

RM1 tanpa sebarang caj tambahan

.

Melalui penyenaraian pihak YES, ia turut hadir dengan data sebanyak 10GB, serta masa penggunaan selama 30 hari lamanya.

Bagi anda yang berminat, boleh mendapatkan kad SIM Yes ini pada harga RM1 melalui Shopee hari ini, dan mengaktifkannya sendiri apabila menerimanya kelak – serta menikmati data

10GB

.

Beli :

Yes Kasi Up di Shopee
Nikmati data 4G sehingga

40GB percuma!

Ekslusif bagi semua

rakyat B40

hanya dengan

yes.

Dapatkan kad SIM

percuma

terus ke rumah anda.

Tak perlu keluar rumah pun

Yes 4G is world's first & Malaysia's largest telecommunication provider who offers data, calls & SMS in one simple plan. Say Yes to Malaysia's best 4G network.

www.yes.my

*Tertakluk terma & syarat*