CG Super Hardcore Club
Platinum Member
Top Poster #1

Joined

Mar 15, 2010
Messages

294,472
Reaction score

12,505
Points

2,376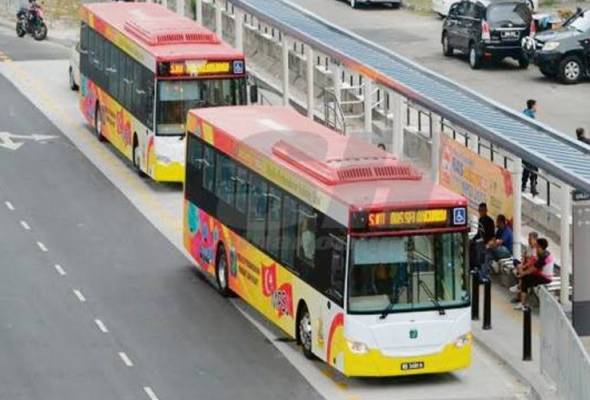 Warga asing yang menggunakan Bas Smart Selangor akan dikenakan caj sebanyak 90 sen bermula 15 Mac. -Facebook / Bas Smart Selangor​
SHAH ALAM:
Warga asing yang menggunakan Bas Smart Selangor akan dikenakan caj sebanyak 90 sen bermula 15 Mac ini, kata Pengerusi Jawatankuasa Tetap Kerajaan Tempatan, Pengangkutan Awam dan Pembangunan Kampung Baru Selangor Ng Sze Han.
Beliau berkata pengenaan kadar tambang itu bukanlah satu bentuk diskriminasi kepada warga asing sebaliknya bagi menampung sebahagian kos yang diperlukan kerajaan negeri serta pihak berkuasa tempatan (PBT) dalam memperluas dan menyediakan kemudahan terbaik kepada orang awam.
Bagaimanapun, katanya warganegara Malaysia tidak akan dikenakan sebarang bayaran.
"Bagi mengekal dan menambah baik perkhidmatan ini untuk tempoh lebih panjang, langkah yang diambil untuk memperkenal kadar tambang kepada warga asing ini adalah wajar.
"Hanya warga asing berumur lingkungan 18 hingga 59 tahun yang akan dikenakan bayaran dengan kadar 90 sen seorang bagi setiap kali turun dan naik bas tanpa mengira destinasi bermula 15 Mac ini," katanya pada sidang media pelancaran aplikasi Scan To Ride hari ini.
Mengenai Scan To Ride, Ng berkata ia merupakan aplikasi yang digunakan untuk menaiki Bas Smart Selangor hasil kerjasama Unit Penyampaian Smart Selangor (SSDU) dan Majlis Bandaraya Shah Alam (MBSA).
Beliau berkata bermula hari ini, pengguna bas Smart Selangor di kesemua 12 PBT di Selangor diwajib menggunakan fungsi 'Scan To Ride' semasa menggunakan perkhidmatan itu ketika masuk dan turun bas menerusi aplikasi Citizen E-Payment (CEPat).
"Fungsi sistem Scan To Ride ini membolehkan pengguna membayar tambang menggunakan kaedah mengimbas Kod QR yang berada di pintu masuk dan pintu keluar bas, selari dengan saranan MajlisKeselamatan Negara untuk menggunakan transaksi tanpa tunai bagi mengurangkan risiko jangkitan COVID-19," katanya.
Ng berkata warga emas dan kanak-kanak tidak diwajib menggunakan sistem itu sebaliknya hanya digalakkan membawa kad pengenalan atau salinan bagi membolehkan kapten bas memberi kebenaran untuk mereka menaiki bas.
-- BERNAMA