Active Member

Joined

Mar 31, 2014
Messages

1,640
Reaction score

325
Points

41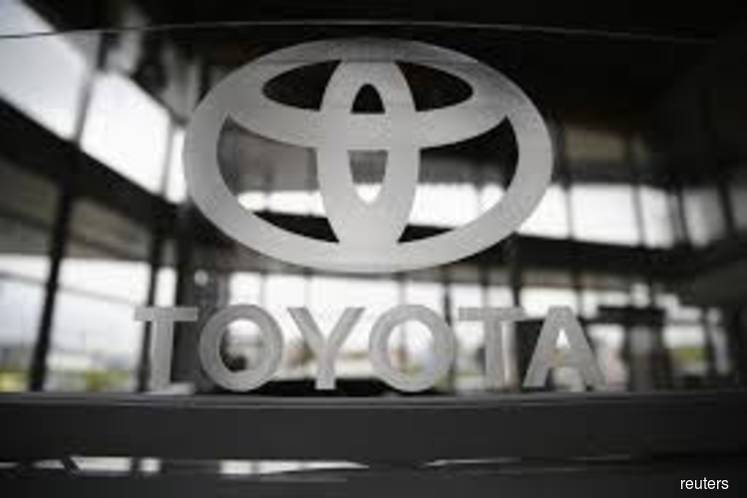 WASHINGTON (22 Jan): Toyota Motor Corp berkata pada hari Selasa ia akan menarik balik 3.4 juta kenderaan di seluruh dunia berikutan kerosakan elektronik yang boleh menyebabkan beg udara tidak berfungsi sekiranya berlaku kemalangan.
Penarikan semula itu terlibat kepada 2.9 juta kenderaan AS, termasuk kenderaaan 2011-2019 Corolla, 2011-2013 Matrix, 2012-2018 Avalon dan 2013-2018 Avalon Hybrid dan melibatkan satu laporan kemalangan maut.
Kenderaan tersebut mungkin mempunyai unit kawalan elektronik yang tidak mempunyai perlindungan yang cukup terhadap hingar elektrik dimana ia boleh berlaku ketika kemalangan, yang mungkin menyebabkan beg udara tidak berfungsi atau mengembang dengan sempurna. Ia juga boleh menghalang operasi untuk mengunci dan mengetatkan tali pinggang keledar.
Pada bulan April, Pentadbiran Keselamatan Lalu Lintas Kebangsaan (NHTSA) Kebangsaan AS memperluaskan penyelidikan terhadap 12.3 juta beg udara yang berpotensi rosak terdiri beberapa pembuat kereta, termasuk kenderaan Toyota untuk dipanggil semula.
NHTSA berkata pada bulan April ia telah mengenal pasti dua kejadian kemalangan bertembung di hadapan, termasuk satu kemalangan maut "yang melibatkan produk Toyota di mana (overstress elektrik) disyaki atau penyebab" beg udara tidak berfungsi. Kedua-duanya melibatkan kereta baru Corolla.
NHTSA berkata beg-beg udara yang berada dalam siasatan dipasang kepada lebih daripada 12 juta kenderaan dari 2010 hingga 2019, dijual oleh Toyota, Fiat Chrysler Automobiles NV, Honda Motor Co, Hyundai Motor Co, Kia Motors Corp dan Mitsubishi.
Ia dilengkapi dengan unit kawalan beg udara yang pada mulanya dihasilkan oleh TRW Automotive Holdings Corp, kini dimiliki oleh ZF Friedrichshafen.
Keseluruhannya, NHTSA berkata sebanyak lapan kematian telah dikaitkan dengan masalah tersebut.
Hyundai, Kia dan Fiat Chrysler sebelum ini telah membuat panggilan semula kepada lebih daripada 2.5 juta kenderaan dengan unit kawalan beg udara TRW yang mungkin dianggap tidak berfungsi ketika kemalangan.
Apabila ia menarik balik hampir 2 juta kenderaan untuk beg udara yang tidak berfungsi pada 2016, Fiat Chrysler berkata ia mempunyai laporan mengenai tiga kematian dan lima kecederaan yang mungkin berkaitan dengan kerosakan itu.
Hyundai dan Kia akhirnya menarik semula semula lebih daripada 1 juta kenderaan kerana bimbang beg udara tidak berfungsi pada 2018. Hyundai dan Kia pada 2018 berkata mereka mempunyai laporan mengenai empat kematian dan enam kecederaan di Amerika Utara yang berkaitan dengan isu tersebut.
Pengedar Toyota akan memasang penapis bunyi di antara mod kawalan kawalan udara dan kabelnya jika diperlukan.
Toyota enggan menyatakan berapa banyak kematian atau kecederaan yang terlibat dengan kerosakan itu. Toyota akan memaklumkan pemilik kenderaan penarikan semula pada pertengahan bulan Mac.
=========================================================================
Toyota to recall 3.4 mil vehicles worldwide, air bags may not deploy in crashes
WASHINGTON (Jan 22): Toyota Motor Corp said on Tuesday it will recall 3.4 million vehicles worldwide because of an electronic defect that can result in air bags not deploying in crashes.
The recall, which includes 2.9 million US vehicles, covers 2011-2019 Corolla, 2011-2013 Matrix, 2012-2018 Avalon and 2013-2018 Avalon Hybrid vehicles and is tied to a report of one fatal crash.
The vehicles may have an electronic control unit that does not have adequate protection against electrical noise that can occur in crashes, which could lead to incomplete or non-deployment of the air bags. It could also impede the operation of seat-belt pretensioners.
In April, the US National Highway Traffic Safety Administration (NHTSA) expanded a probe into 12.3 million potentially defective air bags covering a number of automakers, including the vehicles Toyota is recalling.
NHTSA said in April it had identified two frontal crash events, including one fatal crash "involving Toyota products where (electrical overstress) is suspected as the likely cause" of air bags not deploying. Both involved newer Corolla cars.
NHTSA said the air bags under investigation were installed in more than 12 million vehicles from 2010 through 2019 sold by Toyota, Fiat Chrysler Automobiles NV, Honda Motor Co, Hyundai Motor Co, Kia Motors Corp and Mitsubishi.
They were equipped with an air bag control unit initially produced by TRW Automotive Holdings Corp, which is now owned by ZF Friedrichshafen.
In total, NHTSA said as many as eight deaths could be tied to the issue.
Hyundai, Kia and Fiat Chrysler previously issued recalls for more than 2.5 million vehicles with the TRW air bag control units in question that might not deploy in crashes.
When it recalled nearly 2 million vehicles for air bag non-deployments in 2016, Fiat Chrysler said it had reports of three deaths and five injuries that might be related to the defect.
Hyundai and Kia ultimately recalled more than 1 million vehicles for air bag non-deployment concerns in 2018. Hyundai and Kia in 2018 said they had reports of four deaths and six injuries in North America tied to the issue.
Toyota dealers will install a noise filter between the air bag control module and its wire harness if needed.
Toyota declined to say how many deaths or injuries have been tied to the defect. Toyota will notify vehicle owners of the recall by mid-March.
Sumber : the edge markets
Last edited: