Joined

Jun 1, 2011
Messages

1,957
Reaction score

24
Points

25
Berdasarkan POLL...

Ada 4 orang yang

angau

dan 2 orang

minat sangat

pada Shah Jazle

Andaikata 6 orang ini peminat setia pada Shah Jazle, saya pohon maaf jika keterlanjuran.

Apa-apa pun aku tetap nak kutuk si Jazle ni sebab dia memang Poyo tahap kuasa langit ke-7

)

)

PS

: Aku ingat lagi Melodi pernah interview dia dan bagi peluang dia pujuk Mira Liyana live dalam TV. Ayat petikan dia "Mira, kembalilah pada Jazle kerana Jazle tahu Mira tak boleh hidup tanpa Jazle"

poyosss
:: Thread khas Shah Jazle!... I hate u bebeh!...Kelab

TAK MINAT

Shah Jazle CG!... ::

wokey... wokey... memang saya tak minat sangat ngan Shah Jazle nie...

So skang officially abam kong bukak thread Khas pasal dia kat CG...

apa pe je pasal Shah Jazle bley update conteng borak kat sini...

owh... Shah Jazle..

apesal ko poyo sangat
)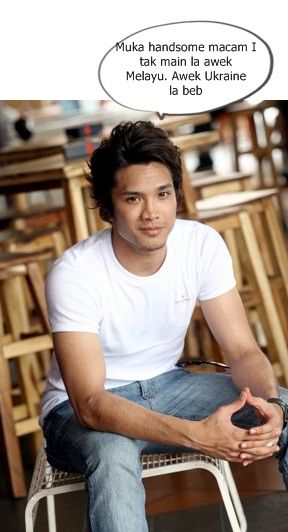 Saya tak minat perempuan Melayu!!
Confirm ramai perempuan-perempuan di luar sana yang kecewa apabila Shah Jaszle bagitau yang dia tak minat nak bercinta dengan awek Melayu. Tambah kecewa kalau anda tahu yang awek Shah Jaszle sekarang ialah awek Ukraine. Confirm cun gila beb. Model kat United Kingdom tue. Pergh… Confirm meletup tak hengat.

Kenapa Shah Jaszle tak suka awek Melayu? Ini jawapannya:-

[note]Saya pernah ada teman wanita Melayu tapi saya kena control sampai susah untuk saya libatkan diri dengan industri kerana cemburu yang melampau. Saya baru 21 tahun tapi dia asyik paksa untuk berkahwin. [/note]

Kalau kami jadi awek Shah Jaszle pun confirm ajak kawin cepat-cepat. Pakwe hensem tue beb. Sebelum kena caras ngan awek lain, baik nikah cepat-cepat. Baru orang lain takleh kacau. Tak gitu? Hehehe.

Dan berita baik untuk anda semua, rupa-rupanya Shah Jaszle dah clash ngan awek Ukraine dia tue. Si awek sudah balik ke Ukraine dan sebelum balik dah pesan kat Shah Jaszle supaya cari awek lain. Apa lagi? Kepada awek-awek Melayu di luar sana, marilah beramai-ramai try mengorat Shah Jaszle. Buktikan kehebatan awek Melayu padanya.

-

beautifulnara
Abam Shin jealous tak tengok Abam Shah dengan Neelofa??
)
)
)
UPDATE BERITA SENSASI SHAH JAZLE!!

Video Prema Yin & Shah Jaszle
Hi readers,

For now, this is the video being talk of the town. A song video Prema Yin & Shah Jaszle who must be still newbies in the music industry came over with peoples classification as "video melayu panas" . This singers in the video Prema Yin & Shah Jaszle being criticized for their act in the video.

This are some screenshot of "video panas Prema Yin & Shah Jaszle"
--
Update terkini:
Keputusan yang agak memeranjatkan :-?
Poll Neelofa - 67 voters
Poll Izara - 68 voters
Poll Tiz - 30 voters
Poll Jazle - 100 voters
Adakah ini membuktikan ramai yang meminat Jazle dalam senyap.. atau menyampah teramat sangat :-?
Terima Kasih atas undian anda

NEXT SUBJECT: AMMAR ALFIAN AZIZ
)
)
...
Last edited: