Active Member

Joined

Mar 31, 2014
Messages

1,640
Reaction score

325
Points

41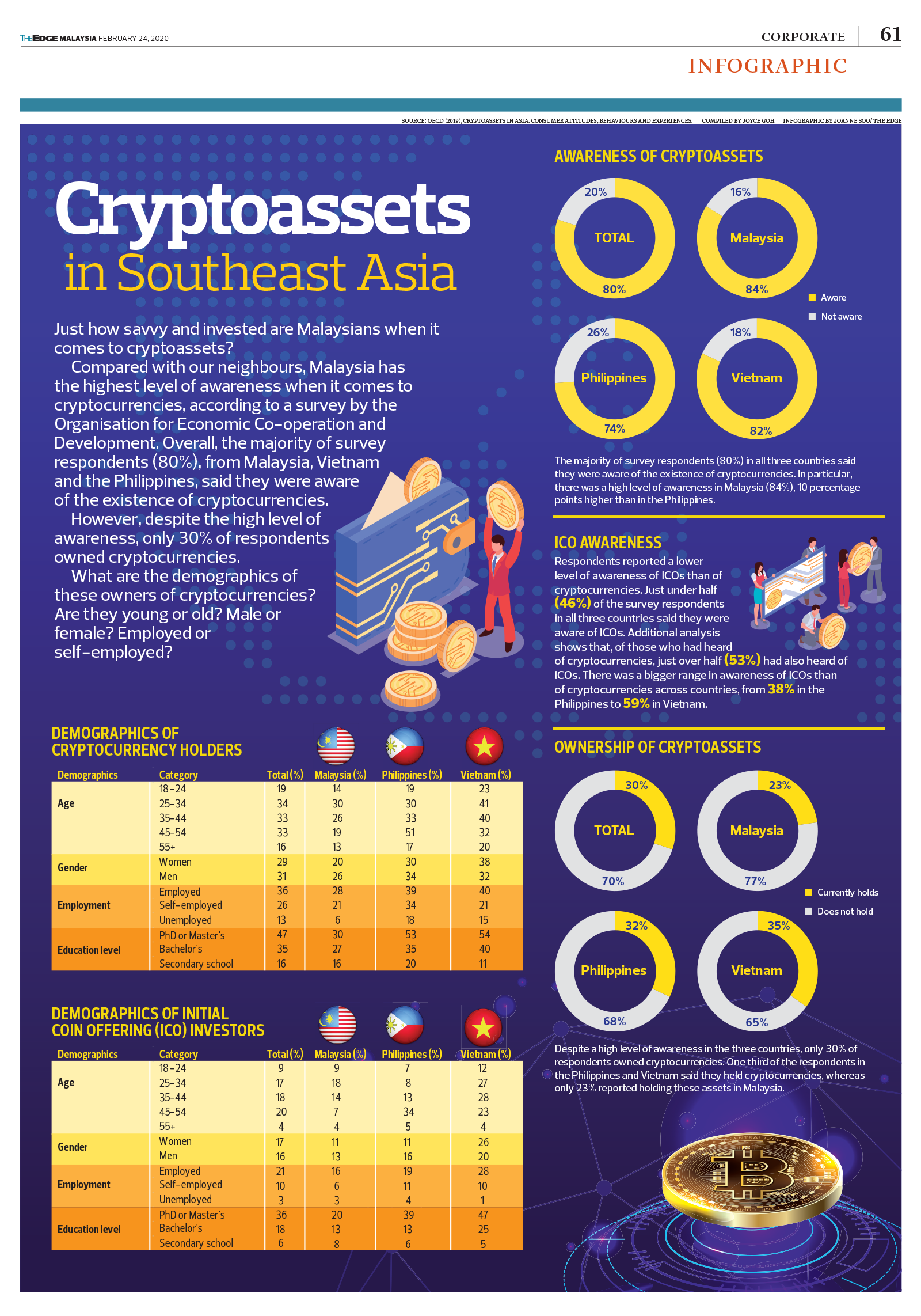 Sejauh manakah pengetahuan serta pelaburan rakyat Malaysia dengan aset kripto ?
Berbanding dengan negara-negara jiran, Malaysia mempunyai tahap kesedaran yang paling tinggi mengenai mata wang kripto, menurut satu tinjauan oleh Organisasi Kerjasama Ekonomi dan Pembangunan. Secara keseluruhannya, majoriti responden berdasarkan kaji selidik, (80%) adalah dari Malaysia, Vietnam dan Filipina berkata, mereka menyedari tentang kewujudan mata wang kripto.
Namun begitu, walaupun mempunyai tahap kesedaran yang tinggi, hanya 30% daripada responden yang memiliki mata wang kripto.
Apakah hasil dari demografi mengenai pemilik-pemilik mata wang kripto ini? Adakah mereka terdiri dari golongan muda atau tua? Lelaki perempuan? Bekerja atau bekerja sendiri?
=========================================================================
Just how savvy and invested are Malaysians when it comes to cryptoassets ?
Compared with our neighbours, Malaysia has the highest level of awareness when it comes to cryptocurrencies, according to a survey by the Organisation for Economic Co-operation and Development. Overall, the majority of survey respondents (80%), from Malaysia, Vietnam and the Philippines, said they were aware of the existence of cryptocurrencies.
However, despite the high level of awareness, only 30% of respondents owned cryptocurrencies.
What are the demographics of these owners of cryptocurrencies ? Are they young or old ? Male of female ? Employed or self-employed ?
Sumber & Kredit : The Edge Markets