Joined

Dec 20, 2008
Messages

128
Reaction score

1
Points

15
Sime Darby kills IJN plan
Jan 6, 09 7:03pm
Citing public opposition, conglomerate Sime Darby Berhad today announced that it would not pursue its ambitious plan to take over the National Heart Institute (IJN).
source:Malaysiakini
Sime Darby Berhad mengumumkan bahawa
pihaknya telah membatalkan hasratnya untuk mengambil alih 51 peratus
pegangan dalam Institut Jantung Negara (IJN).
Dalam satu kenyataan hari ini, syarikat tersebut berkata, keputusan itu dicapai selepas mengambil kira sentimen dan maklum balas awam sejak kerajaan mengumumkan penangguhan keputusannya untuk membenarkan Sime Darby mengadakan perbincangan dengan Kementerian Kewangan berhubung perkara tersebut.
Ketua Pegawai Eksekutif kumpulan tersebut, Datuk Seri Ahmad Zubir Murshid, berkata pihaknya percaya pelaburan berterusan dalam penjagaan kardiovaskular adalah kritikal kerana ia menjadi punca utama kemasukan ke Hospital dan salah satu punca utama kematian di Malaysia.
Beliau berkata, pihaknya mengemukakan cadangan kepada kerajaan berhubung perkongsian dengan IJN itu kerana berpandangan ia akan membawa kebaikan kepada Sime Darby, IJN, pihak terbabit dan orang awam.
"Tetapi kami adalah sebuah syarikat di mana pemegang sahamnya mewakili lebih 10 juta rakyat Malaysia dan kami terpaksa menghormati kehendak rakyat supaya IJN kekal dalam struktur sekarang," katanya.
Menurut Sime Darby, pihaknya menulis kepada kerajaan Ogos lalu bagi menyuarakan hasratnya untuk mengadakan perkongsian yang akan memberi kebaikan bersama dalam memperluaskan skop dan operasi Sime Darby Healthcare dan IJN.
Katanya, perkongsian seumpama itu akan dapat mengemblengkan kepakaran yang dimilik IJN dan juga pihak Sime Darby dalam bidang penjagaan kesihatan.
Menurut kenyataan itu lagi, rancangan Sime Darby dalam penjagaan kesihatan ialah untuk mewujudkan pusat-pusat kecemerlangan dalam bidang perubatan, seperti barah, jantung, neurologi, di Malaysia dan luar negara.
Dalam cadangannya kepada kerajaan itu, tambahnya, Sime Darby amat menyedari peranan IJN dalam menyediakan rawatan perubatan yang cemerlang dan termampu, terutama untuk kalangan pesara, golongan berpendapatan rendah dan orang miskin.
Matlamat utama cadangan tersebut, tegasnya, adalah untuk memastikan rakyat tidak terpinggir daripada mendapat rawatan perubatan kelas pertama dan termasuk jaminan bahawa pesakit miskin, pesara dan golongan berpendapatan rendah dan sederhana dapat terus menikmati rawatan perubatan yang terbaik tanpa perlu menukar status quo.
"Memang sentiasa menjadi hasrat Sime Darby dalam projek ini untuk mengambil kira kebajikan dan kepentingan mereka yang kurang bernasib baik, satu pendekatan yang selaras dengan falsafah syarikat ini dalam tanggungjawab sosialnya," tambahnya.
Berdasarkan kepada cadangan dan jaminan ini, maka kerajaan telah memberi 'lampu hijau' kepada Sime Darby untuk mengemukakan pelan perniagaan yang komprehensif.
Pelan tersebut, tambahnya, perlu dipersetujui oleh Kementerian Kewangan sebelum Sime Darby dibenarkan mengambil pegangan dalam IJN.
Menurut Ahmad Zubir lagi, pihaknya akan terus menerokai peluang untuk memperkembangkan dan menjadikan Sime Darby Healthcare sebagai penyedia penjagaan kesihatan terbaik di rantau in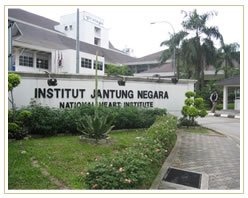 Alhamdulillah....syukur.. berkat doa orang ramai..
Last edited: