CG Super Hardcore Club

Joined

Jan 13, 2009
Messages

152,088
Reaction score

20,953
Points

1,661
#MH17 Jumaat 18 Julai 2014,

buka 19sen, terendah 18.5 sen, tutup 20 sen, jatuh 2.5sen (-11%)

*rekod terendah 15 sen 19 Mei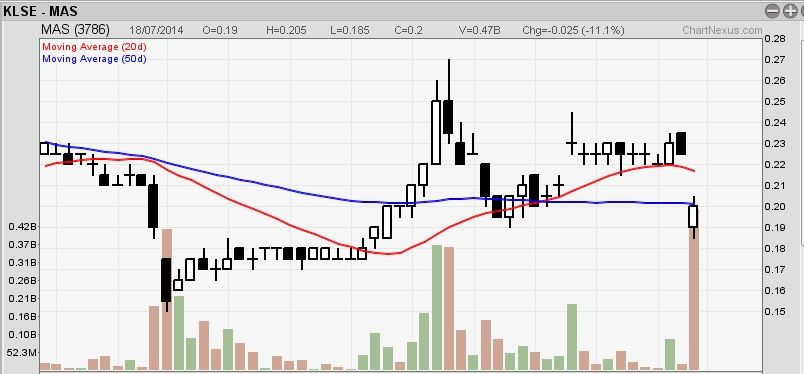 -saham MAS terendah dalam 12 tahun

-peluang terbaik utk diswastakan
"We think its share price has reached the bottom and now is an opportune level to take it private," Maybank analyst Mohshin Aziz said in a report.
The Star/Asia News Network
Thursday, Apr 17, 2014
PETALING JAYA, Malaysia - The share price of Malaysia Airlines (MAS) has reached the bottom and currently trades at its cheapest valuation for the past 12 years, making it attractive for privatisation.
Maybank Investment Bank Research said the stock had plunged 16 per cent since the MH370 incident and now traded at 0.87 times price-to-book value (P/BV) which was consistent with its trough valuation back in 2002 and 2008.
"We think its share price has reached the bottom and now is an opportune level to take it private," Maybank analyst Mohshin Aziz said in a report.
Maybank has upgraded the stock to "hold" from "sell" with a revised target price of 22 sen based on 0.9 times 2014 P/BV.
MAS closed half a sen higher to 21.5 sen yesterday.
Maybank is the only brokerage that has a "hold" call on MAS while the rest who cover MAS have a "sell" call.
Maybank said the
privatisation of MAS could cost Khazanah Nasional Bhd RM1.18billion
(S$455 million), assuming a 10 per cent premium on MAS' current share price. Khazanah holds a 69.37 per cent stake in MAS.
"Further assuming that the profitable businesses are spun off and separately listed with Khazanah ceeding a 30 per cent stake, Khazanah would get back RM1.25billion cash," Mohshin wrote.
Maybank's analysis suggests the break-up value of MAS' profitable business units is RM4.15billion (base case), which is an 18 per cent premium to MAS' current market capitalisation.
In the report, Mohshin also discussed the merits of taking MAS private such as it would reduce media scrutiny, address its legacy issues seamlessly as well as reduce the union's power.
"Being a private company, it takes one 'off the radar' so to speak, and it will enable the management to implement changes faster and in a more efficient manner," he said, adding that MAS would be able to address its many legacy issues more convincingly.
Additionally, the analyst said if MAS were to be split into individual units and restructured with performance-based compensation with clearly defined KPIs, the staff would be too busy to focus on union matters.
Mohshin said many of MAS' business units were profitable and if they were to be listed as standalone companies, it could unlock significant value for shareholders.
Singapore Airlines (SIA) has gone through the evolution of breaking up the group into separate standalone public-listed companies.
"SIA's historical experience has proven that the group has become more efficient and hungry for growth, in our view. The subsidiaries can count on SIA as their anchor customer, but must work hard to attract third party customers in order to drive profits and the company's share price," Mohshin said.
He is not the first to suggest MAS' privatisation. From time to time, market rumours have surfaced about the possibility of MAS being taken private by the principal shareholder Khazanah.
There were even rumours of a privatisation attempt by the Tan Sri Syed Mokhtar Al-Bukhary group. However, none of these materialised.
Last August, former prime minister Tun Dr Mahathir Mohamad also suggested that privatisation could be the answer to make MAS profitable again, after several unsuccessful efforts to turn the national carrier around.
Analysts said the unfortunate event of MH370 could be a reason to revisit plans to privatise and fix the airline as negative sentiment might affect MAS' load factor. MAS will need to work extra hard going forward to regain public confidence.
- See more at:
http://business.asiaone.com/news/mas-share-price-cheapest-12-years#sthash.Aj8qxEgl.dpuf
daily chart sehingga Selasa 25 Mac 2014
Last edited: