CG Top Poster Club
Messages

30,420

Joined

May 26, 2008
Messages

30,420
Reaction score

62
Points

120
WHITENING SPA SALT
PRE ORDER sehingga 11/1/2009 (2nd BATCH)
(Pre order seterusnya selepas tarikh 1st batch berakhir)
T&C:
++ Sila sahkan produk mana yang ada ingin beli.
++ Kos pos laju RM8
++ Pre order di mana order akan dikumpul dahulu dan baru diorder dengan supplier. Setelah barang sampai baru akan dipos kepada customer. Maksimum 7 hari setelah barang sampai.
++ Pembelian akan sah setelah membuat pembayaran. (Online atau offline)
++ Tiada COD.
++ Pihak penjual tidak akan bertanggungjawab sekiranya barang hilang semasa proses penghantaran kepada customer. Kod pos akan di SMS setelah dipos.
++ Produk ini dari Thailand
Bagaimana untuk order:
++ Sila order di topik ini.
++ Beritahu: Nama, Produk dan Kuantiti.
Banking details:

Maybank: 1647 8002 8397
CIMB: 1304 0044 363 522
(Noorarianti Mohd Azahari)
Harga: RM 20
Whitening SPA Salt for Armpit & Bikini Area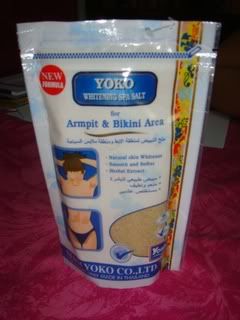 Whitening Spa Salt

exclusively for armpit and bikini is for a skin whitening, enriched E and natural herbal extract with a natural salt benefits. it can remove dirt deposit and dead skin cells from armpit n bikini area effectively, giving you a new radiant skin, feeling clean n soft, helping to reduce the appearance of wrinkle skin. Dramatically effective for your armpit and bikini area within 7 days.



FUNGSI:


- MENCERAHKAN BAHAGIAN BAWAH KETIAK, CELAH PAHA DAN LEHER
~ MEMBUANG SEL2 MATI PADA KULIT
~ MENGHALUS DAN MELEMBUTKAN KULIT



Whitening Papaya SPA Salt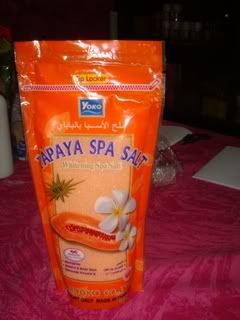 Papaya Spa Salt

is for a skin whitening, enriched with vitamin E, papaya with natural salt benefits, it provides nourishment to your skin with pure papaya. A special formulation which contains the enzyme "papain" from papaya which helps whiten and moisturizer your skin giving you a new & radiant skin.



FUNGSI:


~ MENGHALUS, MELEMBUT SERTA MENCERAHKAN KULIT
~ MENGHILANGKAN SEL2 KULIT MATI PADA TUBUH
~ MENGATASI MASALAH BINTIK2 / JERAWAT PADA BADAN
~ MENGHARUMKAN TUBUH
~ MENCERAHKAN DARK SPOT DAN WARNA KULIT TIDAK SEKATA



CARA PENGGUNAAN:


~ Ambil sedikit spa salt dan letakkan di tapak tangan
~ Campurkan sedikit air dan gaulkan rata
~ Rub gently pada bahagian leher, under arms dan juga armpit.
~ Untuk leher dan armpit, gosok secara perlahan-lahan kerana kulit pada bahagian ini agak nipis.
~ Bilas dgn air.
Lelaki pun boleh guna.
Order list:
Batch #1
Santeira - 1 unit
Shamsiah - 1 unit
norhayat - 1 unit
pasar11 - 1 unit
Batch #2
belle - 1 unit (papaya)
Last edited: