CG Journalist

Joined

Mar 31, 2014
Messages

935
Reaction score

276
Points

31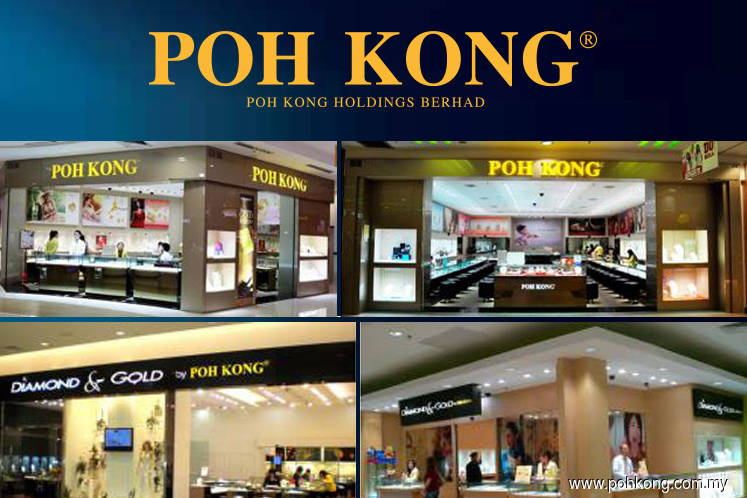 KUALA LUMPUR (Jan 8): Saham syarikat barang kemas Poh Kong Holdings Bhd naik lebih daripada 9% mencecah ke paras tertinggi 22 bulan pagi ini berikutan para pelabur mencari kedudukan selamat pada emas ekoran ketegangan diantara AS dan Timur Tengah semakin meningkat.
Rantaian peruncit emas dan batu permata mencecah kepada 59 sen setakat hari ini, terakhir didagangkan pada 57.5 sen dilaporkan, naik 3.5 sen atau 6.5% daripada harga penutupan terakhir. Pada harga semasa, Poh Kong bernilai RM235.95 juta.
Aktiviti melonjak sebanyak 18 kali kepada 2.5 juta saham berbanding jumlah dagangan purata 200 hari sebanyak 135,489 saham.
Ia adalah antara kaunter tertinggi Bursa Malaysia di tengah-tengah pasaran negatif dengan 655 penurunan berbanding 117 keuntungan. Penanda aras FBM KLCI turun 15.69 mata atau 0.97% pada 1,595.35 pada masa ia dilaporkan.
Sementara itu, Tomei Consolidated Bhd naik sebanyak 3.5 sen atau 7.4% kepada 50.5 sen selepas 462,200 saham pertukaran, menilai kumpulan itu pada RM69.99 juta. Stok terakhir ditutup melebihi paras 50 sen pada April 2019.
Pengilang barang kemas DeGem Bhd, yang sedang menjalani latihan untuk penswastaan, tidak menjalani sebarang aktiviti untuk diniagakan. Dagangan terakhir telah dilakukan pada RM1.08 untuk modal pasaran sebanyak RM141.3 juta.
Walaupun penyenaraiannya semalam dilihat memberi perkembangan terkini, saham dalam ACE Innovate Asia Bhd, anak syarikat yang terlibat dengan pelaburan jongkong emas, tidak diniagakan hari ini. Pasaran LEAP hanya tersedia untuk Pelabur Sofistikated yang memenuhi keperluan tertentu.
Pada hari Rabu, harga emas melonjak lebih daripada 2% melebihi kepada AS$ 1,600 yang didagangkan ketika para pelabur mencari kedudukan selamat pada logam setelah Iran menembak roket di pangkalan udara Iraq yang menjadi tentera AS, beberapa jam selepas pengkebumian seorang komander Iran yang membunuh mogok drone AS telah menimbulkan kebimbangan mengenai konflik yang lebih luas di Timur Tengah.
Harga emas mencecah paras tertinggi sejak Mac 2013 pada US $ 1,610.90 lebih awal dalam sesi itu, manakala niaga hadapan emas AS naik 2% kepada US $ 1,605.80, Reuters melaporkan.
======================================================================
Poh Kong leaps to 22-month high as investors seek safe haven in gold
KUALA LUMPUR (Jan 8): Shares in jeweller Poh Kong Holdings Bhd rose more than 9% to hit its 22-month high this morning, as investors sought safe haven in gold in view of escalating tensions between the US and the Middle East.
The gold and gemstones jewellery retail chain, which hit a high of 59 sen so far today, was last traded at 57.5 sen at the point of writing, up 3.5 sen or 6.5% from its last closing price. At its current price, Poh Kong is valued at RM235.95 million.
Activity ballooned 18 times to a total of 2.5 million shares versus its 200-day average trading volume of 135,489 shares.
It was among Bursa Malaysia's top gainers amidst a negative market breadth with 655 decliners outstripping 117 gainers. The benchmark FBM KLCI was down 15.69 points or 0.97% at 1,595.35 at the time of writing.
Meanwhile, Tomei Consolidated Bhd rose as much as 3.5 sen or 7.4% to 50.5 sen after 462,200 shares were exchanged, valuing the group at RM69.99 million. The stock last closed above the 50 sen level in April 2019.
Jewellery manufacturer DeGem Bhd, which is undergoing a privatisation exercise, was untraded. It was last done at RM1.08 for a market capitalisation of RM141.3 million.
Although its listing yesterday seems timely given current developments, shares in ACE Innovate Asia Bhd, whose subsidiaries are involved in gold bullion trading, were not traded today. The LEAP market is only available to Sophisticated Investors that meet certain requirements.
On Wednesday, gold prices surged more than 2% to cross the US$1,600 mark as investors sought cover in the safe-haven metal after Iran fired rockets at an Iraqi airbase which hosts US forces, hours after the funeral of an Iranian commander whose killing in a US drone strike has raised fears of a wider conflict in the Middle East.
Spot gold hit its highest since March 2013 at US$1,610.90 earlier in the session, while US gold futures rose 2% to US$1,605.80,
Reuters
reported.
Sumber : the edge markets
Last edited: