Active+ Member
Messages

3,098
Joined

Nov 14, 2008
Messages

3,098
Reaction score

1
Points

30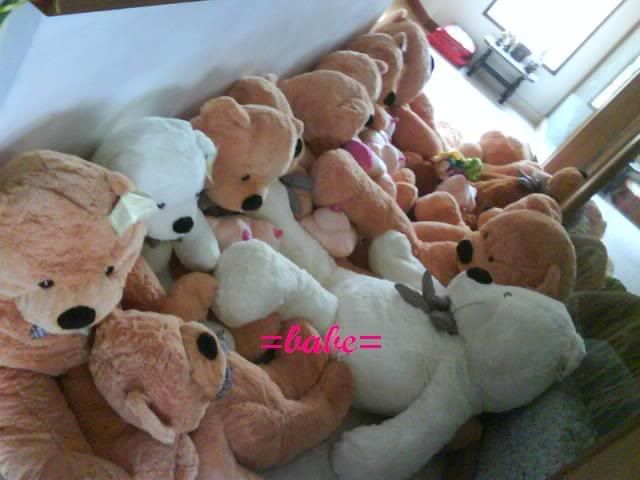 ORDER OPEN NOW!!!!
Close:
Order&Pay before
​
Selamat Datang ke Zone Teddy

Syarat&Panduan:

# Sebarang pertanyaan dan penempahan , sila turun msg disini ..bukan melalui PM

ATTENTION!!

Please read and agree with the Terms and Conditions before proceeding.

01. Once placing order, no cancellation is allowed.

02. Buyer should stay tune and be online until everything is settled.

03. Items are expected to be arrive

4-5 weeks

after order(s) is placed. Unavaoided delay seller will update from time to time.

(exclude saturday & sunday, Malaysia public holiday and China public holiday.)

04. Seller will reserved the rights to cancel order(s) if it is out of stock. Buyer will be refunded in this case ONLY.

05. Any lost/damages during delivering will not be responsible.

06. Good(s) sold is/are

not exchangable or refundable.

07. Payment shall be made into my account within 2 days after confirmation.


Will only post out the item for those who has already pay the FULL AMOUNT for their ORDER and 50% of deposit upon confirmation.

08. Please place order at your own risk as there will be differentiation.

09. If there parcel being taxed, it should be equally shared among buyers.

(Using Marine Shipping - wont get tax)

10. Once place order(s) according to the form,

NO BACKOUT

is allowed.

11. Price quote does not include postal charge.

12. Non negotiate on all prices, whether it is clothes, handling fees or postage.
Pilih + Bayar(Deposit 50%) ---> Tutup Order ---> 2 hari mengaturkan tempahan dari kami dengan kilang ---> Kilang proses tempahan ---> Menghantar barang ke agent ---> Proses packing ---> Naik kapal ---> Tiba di Tangan saya ---> Bayaran penuh ---> Tiba di Tangan ANDA
Akan mengambil masa: 4-5minggu (mungkin awal) utk menerima barang kerana menggunakan pengangkutan air
*Shipping dari CHINA : pengangkutan air x 2 kali sebulan
Cara pembayaran:
Via MBB / PBB
Post:
Semenanjung :
Parcel Post RM5 (1st kg)
COD: =RM2 (fuel&Tol)
Tempat: Leisure Mall Cheras
- Temujanji ikut our masa/tarikh
-Student/Part-Time worker- Bukan boleh COD selalu..sorry...

ISI BORANG TEMPAHAN:
*Nama:
*Nick Carigold:
*COntact No:
*Link/Nama barang:
*Size:
*Warna:
MY DETAIL
Nama: Vic
SMS : PM me (xnak permain miss call at midnight pula)
Alamat : 73000, Tampin. N.S
Tempat cod: CHERAS, MELAKA, SUNWAY
Batch#1 - CLOSE
(arrived : 26th December 2008)
1. Andy86 - 1m Teddy: 4Unit(2xlight brown & 2xwhite)RM400(Include sabah post)
19nov PAID Dep RM200& 20Dec Paid RM140
Air postage RM13each x 4 =RM52 (RM80)-
pm me your akaun i refund RM28 TQ
CD145084431MY
CD145084462MY
CD145084428MY
CD145084459MY
2. azie_abdrahman - 23Dec COMPLETE
1.2m Teddy Light brown & Panda Pillow
3. akimaru - 1 meter ultra large size gruff bear (BROWN)CD145084493MY
Batch#2 - Tutup
Anggaran Tiba: 1 Jan 2009
1.yazzids_beckham - 1m Light Brown Teddy RM90 (4Nov Paid RM50)
RECEIVED
Batch#3 - TUtup
Close : 13th December 2008
Received goods: 10 Jan 2009
ARRIVED
1. birdiecrow - 1m light brown teddy RM90+postage
8Dec DEPOSIT RM50
cod kt LRT tasik selatan 13.01.2009.
Batch #4 - TUTUP
Close: 3Jan
Estimate arrived: 25Jan/Early Feb
1. birdiecrow - 1m Dark Brown Teddy RM90+Postage
2Jan Deposit RM50
2.syahey - gruff bear Brown RM45+postage (4Nov Paid RM26)
Batch #5 - CLOSE
Close: 2Jan 2010[/size]
1. devill
24Dec paid RM45 (including pos)
35cm-Rose: Wine color

Batch #6
Close: 15Jan
1.
2.

READY STOCK CUSTOMER:
1. epi_san - 12May RM100 paid 1m dark brown Bear
2. schweinsteiger - 1m Brown : 8March2010 Paid
Checking track number (eparcel) :
http://www.pos.com.my/WebsiteBM/MAIN2.ASP?c=/v1/tracktrace/Parcel/trackmenu.asp
Dearest Feedback Frm CG
mari2..rugi kalau tak beli. i memang nak letak pic nanti kat sini. pillow dia pn sangat best and i nk order lagi nanti..memang siok bile baring atas pillow ni..bear dia soft, quality super nice!!!...memang i will beli lagi kalau ada duit. my frend tgk pn sume sibuk tanya beli kat mana..haha...kat luar tak dpt price ni tau..thanks ya 4 ur gd and quality product!!!love,
thanks CIKzj barang dah sampai..mcm baby lak..boleh peluk2..hehehe
Yehaa!~~~

Dah dapat Teddy bear light brown 1.0m x2 and Teddy Bear White 1.0m x2..

Hehe!!! Pegawai pos kat cni pun berminat nak ambil satu.(Dah angkat pun..

)

So, I'm really recommended Cikzj kita nie.. No hussy, frenly, Good Seller~...

Thanks~

paid
schweinsteiger said:

CikZJ said:

ady send out use sky net: 201390514555
TQ

missZJ,item received in gud condition

and thanks for the card yaaa
Last edited: