CG Top Poster Club

Messages

25,458
Joined

Mar 11, 2009
Messages

25,458
Reaction score

7,728
Points

316

Melayu yg dilupakan sejarah?..........




Siapakan Melayu yg dilupakan sejarah?

Siapa tau?




Nanti rajin saya hapdate.

Just nak tengok sapa tau Siapa Melayu yg Dilupakan Sejarah?

=================================================================



Tidak ramai daripada kita tahu sebelum Malaysia telah ditubuhkan pada September 16hb 1967 dan sebelum kita mencapai kemerdekaan pada tahun 1957 sebelum mampu berfikirkan kemerdekaan kita mempunyai kapal perang kita sendiri dinamakan sempena tanah air kita.

kapal perang tersebut HMS MALAYA, Queen Elizabeth kelas kapal penempur dibina oleh Sir WG Armstrong Withworth and Co Ltd....


Ia ditaja oleh raja-raja dari Persekutuan Negeri Melayu (negeri Perak, Selangor,Pahang dan Negeri Sembilan) itu nama MALAYA. (bayangkan raja-raja kita hari yang menaja kapal perang untuk Empayar British .... DAMN .... Amat kaya eh.

Cadangan untuk menaja telah dibuat oleh Sultan Perak pada tahun 1913 dengan dibalas mendapat sokongan oleh Sultan Selangor.


HMS MALAYA adalah seberat 33 020 tan. Saiznya 196,82. Mampu belayar selaju 25 knot yang didorong oleh turbin Parsons stim yang terdiri daripada 24 dandang turbin 4 aci pada 56 500 kuasa kuda.


HMS Malaya bersenjata apabila keluar dari depot itu pada tahun 1915 dengan lapan Mk1 pistol 15 inci, empat belas tunggal MkXII 6 pistol inci, dua tunggal 3 inci pesawat senapang anti, empat tunggal 3 pounder saluting guns dan empat 21 inci tiub torpedo....




Semasa Perang Dunia Pertama ramai rakyat malaya ni terutama nya yang tinggal di negeri selat menderma kepada kerajaan british untuk berperang di eropah.

Salah satu benda yang Federated Malay States atau Persekutuan Tanah Melayu ialah HMS Malaya, di namakan dari perkataan Malaya. Bertempur dengan beraninya di dua perang dunia WW1 dan WW2 HMS Malaya ni terselamat dari tenggelam semasa perang walau pun akhirnya HMS Malaya berakhir menjadi besi buruk. Jasa nya kepada British tak ternilai.



yes ladies and gentlemen...that is the 15 inch gun...and she got eight of em...
the crew of HMS Malaya on the deck in front of the 15 inch gun having an exercise...somewhere in Mediterranean​



HMS Malaya berkhidmat di kedua-dua peperangan dunia, pertama semasa Pertempuran Jutland mana kapal perang ini bersama-sama dengan Elizabeth Queen Kelas kapal penempur lain Skuadron Pertempuran 5 Armada Grand berjuang menentang Tentera Laut Imperial Jerman.

dia telah ditembak oleh peluru musuh lapan kali tetapi masih mampu untuk kembali dengan selamat, dengan kerugian sebanyak 65 pelaut.

Semasa Perang Dunia Kedua HMS Malaya telah ditempatkan di Mediterranean sebagai konvoi pengiring dan pada masa operasi yang sama terhadap armada Itali. Dia melepaskan senjata beliau dalam kemarahan di Genoa pada bulan Februari 1941 di bawah Operation Grog dalam kempen pengeboman laut dan udara tentera laut terhadap bandar pelabuhan Itali Genoa dan La Spezia.

Pada 20 MAC 1941, HMS Malaya telah rosak oleh torpedo yang diluncurkan oleh beberapa Jerman U-bot U-106. HMS Malaya telah senget 7 darjah akibat ditembak teruk. Dia sampai ke Trinidad dan kemudian New York untuk pembaikan.





HMS Malaya mempunyai kot jata negara Negeri-Negeri Melayu dan mempunyai bendera tentera laut sendiri sesuatu yg unik yang berbeza dari kapal perang lain dalam Grand Armada British pada masa itu.

Walaupun pada masa itu tidak ada anak-anak kapal Melayu atau pegawai-pegawai Melayu yang berkhidmat di atas kapal HMS Malaya.







Siap bikin SETEM lagi ni.
paid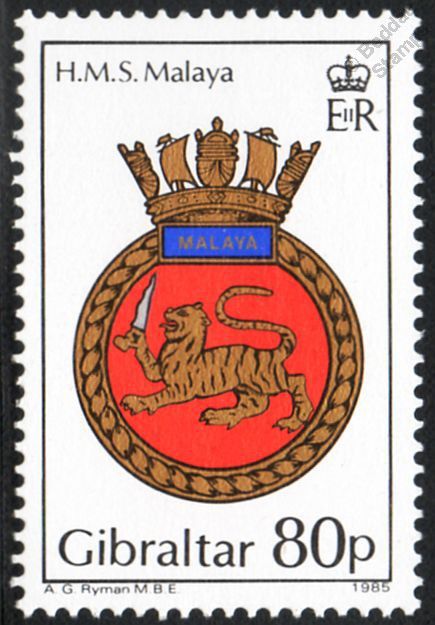 Royal Navy Ship Crest HMS MALAYA Stamp (Gibraltar)
Ini plak Igsignia Bendera Melayu dikapal Persekutuan Tanah Melayu ni.
Kalau rasa best sila klik itu Thanks. eekekekee
paid
​
Last edited: