Active Member

Joined

Mar 31, 2014
Messages

1,640
Reaction score

325
Points

41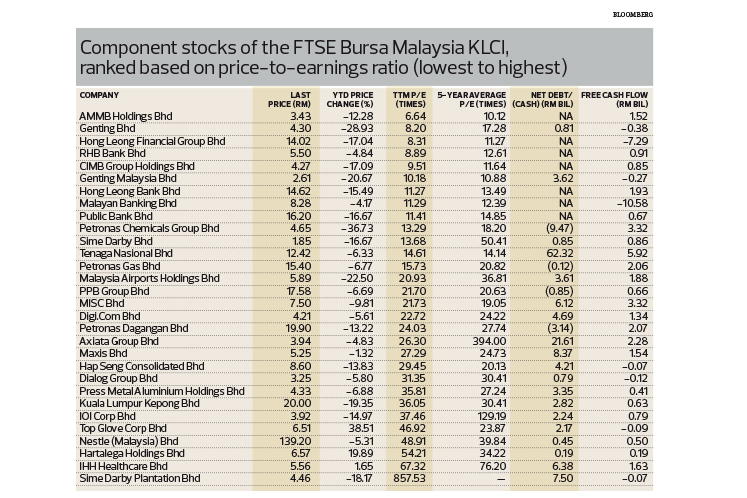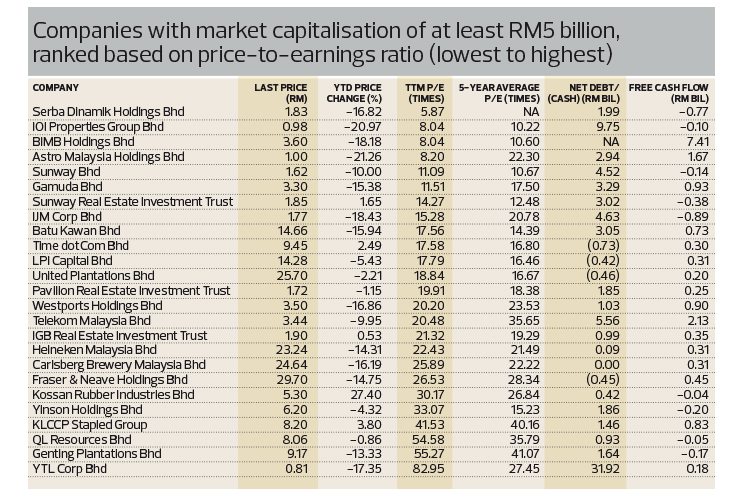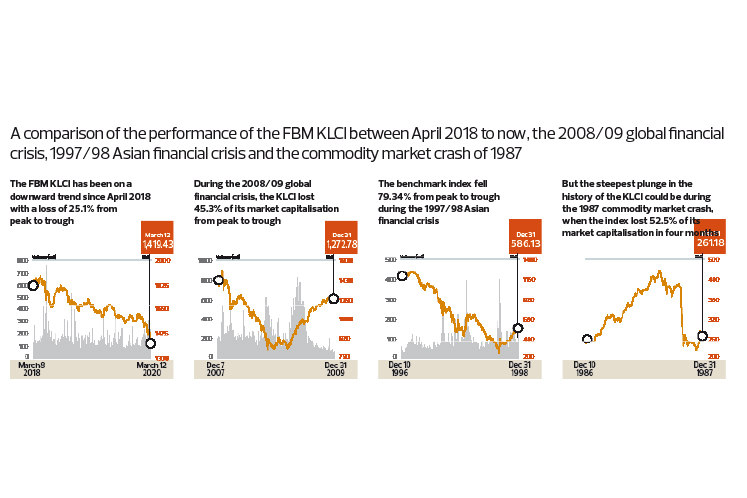 Suku pertama tidak begitu baik buat Malaysia. Wabak Covid-19 dan pergolakan politik mengancam kestabilan ekonomi. Perang harga antara pengeluar minyak Rusia dan Arab Saudi telah menjadikan pasaran kewangan tambah merosot.
Bencana ini telah menyebabkan berbilion ringgit mengalir keluar dari pasaran saham. FBM KLCI ditutup Khamis lepas pada 1,427.8 mata, kira-kira 10% lebih rendah berbanding dari awal tahun ini.
Perbezaan antara yang tertinggi baru-baru ini dimana FBM KLCI mencecah 1,896.03 pada 20 April 2018, dan terendah pada 1,414 pada Selasa lalu sebanyak 25% - menjadikan pasaran terjejas dan mengalami penurunan.
Di Wall Street, laporan berita mengisytiharkan ia adalah kenaikan terakhir sepanjang 11 tahun berikutan kedua-dua pasaran Dow Jones Industrial Average dan S&P 500 telah mengalami kejatuhan pada Rabu lepas. Penurunan pasaran ditakrifkan sebanyak 20% kejatuhan dari paras tertinggi baru-baru ini.
Adakah pasaran mencapai kepada titik terendah, dan jika ia berlaku, pelabur seharusnya mula mengumpul ekuiti, mengambil kesempatan daripada harga rendah dari saham tertentu untuk mengahadapi trend kejatuhan seterusnya? Atau, adakah Bursa Malaysia akan menghadapi pasaran kejatuhan yang berpanjangan?
Kaladher Govindan, Naib Presiden Kanan TA Research, beliau percaya FBM KLCI telah pun berada dalam pasaran menurun.
"Saya percaya kita berada di hujung kitaran menurun yang bermula sejak Julai 2014," katanya.
"Dari itu, pada pandangan saya pelabur tidak harus panik tetapi menjadikan keadaan semasa sebagai peluang untuk mengumpul saham penurunan untuk menangani perubahan kitaran kenaikan seterusnya yang mungkin akan berlangsung selama satu dekad lagi."
Dari paras tertinggi 1,896.23 - yang tertinggi pernah dicapai oleh FBM KCLI dan hanya lebih sedikit dari paras tertinggi sebanyak 1,896.03 pada 20 April 2018 - tetapi pada 8 Julai 2014, FBM KLCI telah mengalami kejatuhan kira-kira 25% seperti penutupan pada hari Khamis lepas.
Walau bagaimanapun, dalam tempoh ini, FBM KLCI telah mengalami banyak kenaikan dan kejatuhan. Di antara 10 Julai 2014 dan 24 Ogos 2015, ia mengalami kerugian 19% daripada permodalan pasarannya akibat kejatuhan harga minyak mentah yang disebabkan oleh perang harga antara pengeluar minyak konvensional seperti Arab Saudi dan Rusia terhadap pengeluar tidak konvensional di Amerika Syarikat .
Walau bagaimanapun, selepas "gencatan senjata" dicapai oleh negara-negara pengeluar minyak, harga minyak mentah mula naik semula. FBM KLCI menandakan pergerakan itu, dengan penanda aras naik 23.7% antara 24 Ogos 2015 dan 19 April 2018.
Namun begitu, ia jatuh lagi dan mengalami penurunan akibat dari peristiwa pada 20 April 2018, ketika kempen pilihan raya umum ke-14 secara besar-besaran dan seterusnya Barisan Nasional tumpas buat kali pertama dalam sejarah. Sejak itu, indeks telah jatuh sebanyak 25% sehingga penutupan pada Khamis lepas.
Walau bagaimanapun, persoalannya masih - adakah FBM KLCI mencapai kepada tahap terendah? Memandangkan banyak ahli ekonomi menjangkakan kemelesetan teknikal pada separuh pertama tahun ini, berikutan kejatuhan harga minyak mentah dan kesan dari Covid-19, adakah akan berlaku lagi kejatuhan dalam FBM KLCI?
Perbandingan prestasi FBM KLCI baru-baru ini dengan tiga tempoh cabaran hebat ekonomi lain yang dihadapi oleh Malaysia sejak 40 tahun yang lalu menunjukkan trend penurunan semasa tidak begitu mendalam.
Di antara 10 Ogos 1987 dan 7 Disember 1987, ketika Malaysia dilanda kejatuhan harga komoditi, termasuk timah - dan kemudian salah satu barangan eksport utama negara - KLCI turun 52.54% kepada 223.12 mata.
Kira-kira satu dekad lalu, krisis kewangan Asia 1997/98 telah melanda Bursa Saham Kuala Lumpur (BSKL) ketika itu, dengan penanda aras KLCI kehilangan 53.52% daripada permodalannya dalam tempoh dua tahun. Beberapa syarikat terbesar di BSKL terpaksa diselamatkan oleh kerajaan.
Kira-kira 10 tahun lalu, bursa memasuki pasaran terendah, selepas negara dilanda krisis kewangan global. Antara 11 Jan dan 29 Okt 2008, KLCI kehilangan 45.3% daripada nilainya, mencecah 829.4 mata.
Meskipun terdapat kebimbangan terhadap trend penurunan ini adalah penurunan yang pernah berlaku, ia menjadikan pelabur semakin tidak yakin dengan Bursa. Seorang penganalisis yang tidak mahu namanya disebutkan berkata, masih ada lagi kejadian yang belum berlaku dan, jika menjadi kenyataan, pasaran akan jatuh lebih jauh lagi.
"Saya fikir sukar bagi kerajaan baru untuk membuat keputusan tentang dasar-dasar utama seperti Cukai Barang dan Perkhidmatan, ratifikasi perjanjian perdagangan dan pengubahsuaian semula bajet persekutuan, yang semuanya harus melalui parlimen," kata penganalisis itu.
"Sudah semestinya, persidangan parlimen akan ditangguhkan sehingga bulan Mei, memberi bermaksud belum ada lagi keputusan mengenai dasar utama. Dan jika ia berlaku, tiada perubahan dasar yang penting akan dibincangkan kerana perhatian masih akan bertumpu kepada politik."
Selepas keluar dari Putrajaya ekoran dari peralihan kuasa, beberapa ahli politik Pakatan Harapan telah meletakkan jawatan.
Terdapat khabar angin mengatakan bahawa pilihanraya akan berlaku tidak lama lagi, jika kerajaan Perikatan Nasional tidak dapat bergerak dalam parlimen kerana ia tidak mempunyai majoriti yang kuat. Perubahan mendadak dalam kerajaan telah menyebabkan kegelisahan dikalangan pelabur kerana ia tidak diketahui apakah dasar ekonomi dan sosial kerajaan baru yang akan dilaksanakan. Kemasukan PAS dalam gabungan itu menyebabkan kehilangan pasaran dari syarikat awam yang membawa kerugian berbilion dalam nilai pasaran apabila bursa dibuka pada 2 Mac.
Tawaran yang telah diumumkan tetapi belum lagi ditandatangani, seperti pemerolehan oleh kerajaan dari empat konsesi lebuh raya yang sebahagiannya dimiliki oleh Gamuda Bhd sebanyak RM6.2 bilion, juga akan diteliti, penganalisis percaya. Pengurangan 18% kadar tol bagi semua lebuh raya yang dimiliki dan dikendalikan oleh PLUS Expressways Bhd dan tempoh konsesi 20 tahun yang seterusnya untuk 2058 mungkin akan dipertimbangkan semula.
"Ini adalah satu pembaziran masa, sungguhpun, untuk semua yang terlibat dalam rundingan perjanjian, namun akhirnya, kerajaan baru tidak akan mengiktiraf mereka dan mebatalkan kesemua rancangan itu," katanya.
Pada masa yang sama, kejatuhan harga minyak mentah sejak awal bulan ini juga meletakkan kedudukan fiskal kerajaan berisiko kerana kerajaan Pakatan Harapan telah mengambil harga purata minyak mentah sebanyak US$ 62 setong pada tahun ini ketika perancangan Bajet 2020 tahun lepas.
Walau bagaimanapun, setakat ini, penanda aras harga Brent telah mencecah purata AS $ 57.08 setong. Menurut Vincent Loo, ahli ekonomi di KAF Research, setiap penurunan harga US$ 1 dalam harga Brent akan mengakibatkan penurunan sebanyak RM300 juta dalam hasil kerajaan.
"Kira-kira RM7 bilion hingga RM10 bilion hasil kerajaan akan mengalami kerugian jika harga minyak kekal AS$ 30 kepada AS$ 40 setong selama sepanjang tahun. Ini menambah kira-kira 0.4 hingga 0.6 mata peratusan kepada defisit bajet 2020 sebanyak 3.4% daripada keluaran dalam negara kasar, menyebabkan defisit meningkat kepada 3.8% hingga 4% daripada KDNK," kata Loo dalam laporan 11 Mac.
Dalam keadaan semasa, mungkin ada keperluan untuk merasionalisasi perbelanjaan atau menyemak semula perbelanjaan kepada anggaran yang lebih tinggi, katanya.
Jika kerajaan memilihnya sebagai jalan terakhir, berbuat demikian akan meletakkan penarafan kredit dalam risiko penurunan jika sasaran konsolidasi fiskal tergelincir, tambahnya.
Dari kesemua situasi ini, ditambah pula dengan kemelesetan teknikal yang dijangkakan dalam separuh pertama tahun ini, mungkin akan meletakkan bursa tempatan jauh ke bawah, kata penganalisis yang kepada The Edge. Kemelesetan teknikal ditakrifkan sebagai dua suku berturut-turut akibat daripada penguncupan ekonomi.
=================================================================================
Lead Story: It may be the right time for investors to begin positioning for a cyclical recovery
THE first quarter has not been good for Malaysia. The Covid-19 outbreak and political turmoil are threatening its economic stability. The price war between oil producers Russia and Saudi Arabia has further roiled financial markets.
These calamities have caused billions of ringgit to flow out of the stock market. The FBM KLCI closed last Thursday at 1,427.8 points, about 10% lower than the start of the year.
The difference between a recent high that the FBM KLCI hit at 1,896.03 on April 20, 2018, and the lowest of 1,414 last Tuesday is 25% — plunging the market into bear territory.
On Wall Street, news reports proclaim the end of the 11-year bull run as both the Dow Jones Industrial Average and S&P 500 dived into bear market territory last Wednesday. A bear market is defined as a 20% drop from a recent high.
Has the market hit rock bottom, and if it has, should investors start to accumulate equities, taking advantage of the low prices of certain stocks to ride the next bull-charged market? Or, is Bursa Malaysia entering a prolonged bear market?
Kaladher Govindan, senior vice-president of TA Research, believes the FBM KLCI is already in a bear market.
"I believe we are at the tail end of a bear cycle that started in July 2014," he says.
"Thus, it is my view that investors should not panic but recognise the current correction as an opportunity to accumulate on weakness to ride the next bull cycle that probably will last for another decade."
From the intra-day high of 1,896.23 — the highest the FBM KCLI has ever hit and just a tad higher than the recent high of 1,896.03 on April 20, 2018 — on July 8, 2014, the FBM KLCI has fallen about 25% to last Thursday's close.
Within this period, however, the FBM KLCI has seen many ups and downs. Between July 10, 2014, and Aug 24, 2015, it lost 19% of its market capitalisation due to the plunge in crude oil prices brought about by the price war between conventional crude producers such as Saudi Arabia and Russia against unconventional producers in the US.
However, after a "ceasefire" was achieved among oil-producing countries on production caps, crude oil prices started to climb again. The FBM KLCI mirrors that movement, with the benchmark up 23.7% between Aug 24, 2015, and April 19, 2018.
However, it fell again into bear territory after hitting its April 20, 2018, high, as the 14th general election campaigning went into full swing and the subsequent loss of Barisan Nasional for the first time in history. Since then, the index has fallen 25% to last Thursday's close.
Nevertheless, the question remains — has the FBM KLCI hit rock bottom? As more economists are expecting a technical recession in the first half of the year, due to the plunge in crude oil prices and the effects from Covid-19, will there be further declines in the FBM KLCI?
A comparison of the recent performance of the FBM KLCI with three other periods of great economic challenges that Malaysia faced over the last 40 years shows that the current downward trend is not as deep.
Between Aug 10, 1987, and Dec 7, 1987, when Malaysia was hit by the commodity price crash, including tin — then one of the country's mainstay export items — the KLCI fell 52.54% to 223.12 points.
About a decade later, the 1997/98 Asian financial crisis hit the then Kuala Lumpur Stock Exchange (KLSE) hard, with the benchmark KLCI losing 53.52% of its capitalisation during the two-year period. Some of the largest companies on the KLSE then had to be bailed out by the government.
About 10 years later, the bourse entered another bear market, after the country was hit by the global financial crisis. Between Jan 11 and Oct 29, 2008, the KLCI lost 45.3% of its value, to hit 829.4 points.
Therefore, there are fears that this downward trend is just a precursor to more declines on Bursa. An analyst who declines to be named says there are still events that are yet to happen and, if they materialise, the market could fall even further.
"I think it would be hard for the new government to decide on major policies such as the Goods and Services Tax, ratification of trade deals and recalibration of the federal budget, which all need to go through parliament," says the analyst.
"Already, the reconvening of parliament will be delayed until May, which means no decisions on major policies. And even when it sits, no major policy changes will be discussed as attention will still be on politics."
After being booted out of Putrajaya through political manoeuvres, some Pakatan Harapan politicians have taken to the road to take their cause to the people.
There are rumours that a snap election could be called soon, if the Perikatan Nasional government cannot get things moving in parliament as it does not have a strong majority. The sudden change in the government has caused jitters among investors as it is not known what kind of economic and social policies the new government will adopt. The inclusion of PAS in the governing coalition caused sin stocks to lose billions in market value when the bourse opened on March 2.
Deals that have been announced but not yet signed, such as the acquisition by the government of the four highway concessions partly owned by Gamuda Bhd for RM6.2 billion, could also be up for review, the analyst believes. The 18% reduction in the toll rates for all highways owned and operated by PLUS Expressways Bhd and the subsequent 20-year extension of concession period to 2058 could also be up for reconsideration.
"It is a bit of a waste of time, really, for all those involved in the negotiations of the deals if, at the end of the day, the new government is not going to acknowledge them and scrap the plans altogether," he says.
At the same time, the plunge in crude oil prices since early this month also put the government's fiscal position at risk as the Pakatan Harapan government had assumed an average crude oil price of US$62 per barrel this year when it crafted Budget 2020 last year.
However, year to date, the benchmark Brent price has averaged US$57.08 per barrel. According to Vincent Loo, economist at KAF Research, every US$1 drop in the Brent price will result in a decline of RM300 million in the government's revenue.
"About RM7 billion to RM10 billion of government revenue will be lost if oil prices stay at US$30 to US$40 per barrel for the rest of the year. This adds about 0.4 to 0.6 percentage point to the 2020 budget deficit of 3.4% of gross domestic product, causing the deficit to balloon to 3.8% to 4% of GDP," says Loo in a March 11 report.
Under the current circumstances, there is probably a need for the government to rationalise spending or revise the budget estimates higher, he says.
If the government chooses the latter, doing so would put the sovereign credit rating at risk of a downgrade if fiscal consolidation targets are derailed, he adds.
All of these situations, coupled with the expected technical recession in the first half of the year, are likely to send the local bourse further downhill, says the analyst who spoke to The Edge anonymously. A technical recession is defined as two consecutive quarters of economic contraction.
Sumber & Kredit : the edge markets
Last edited: