Elite Member
Platinum Member
Joined

May 30, 2006
Messages

4,154
Reaction score

678
Points

76
Salam,
Sebenarnya sistem trading ni pernah saya introduce setahun yg lepas kat forex-tsd cuma semalam saya ade buat sedikit improvement dgn menambah beberapa indicators.
Jadi dibuka utk member2 disini beri pendapat mana2 kekurangan utk dibincangkan bersama.
Petikan dari forex-tsd adalah seperti berikut:
I was revised this method for more effective trading. I add 1 more MA layer (darkorchid color) to filter & identify main trend on the chart. I also use support & resistant as well as Band 100 deviation 2.

Second window, I put 2 indicators (Stoch histogram 100,3,3 & rsi filter 10). Function these indicators to entry & close the position. When stoch histogram & rsi filter shows different direction then we close previous position even in negative pips for stop lose or take profit if our OP in positive pips. Normally when stoch & rsi shows different direction with each other it indicate market in flat condition. Therefore for securing don't trade when this condition occurred.

I use timeframes 15 minutes & this template can apply any your favorite pair. Take a look & give your comment after trying it.
OP BUY & CLOSE CONDITION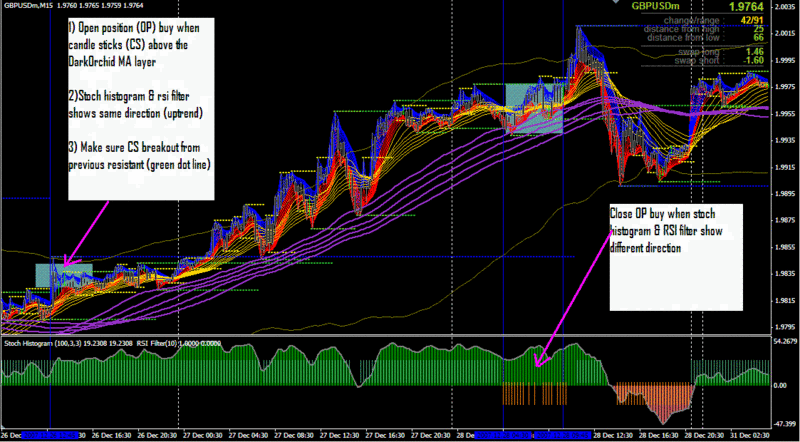 OP SELL & CLOSE CONDITION

DON'T TRADE CONDITION/MARKET FLAT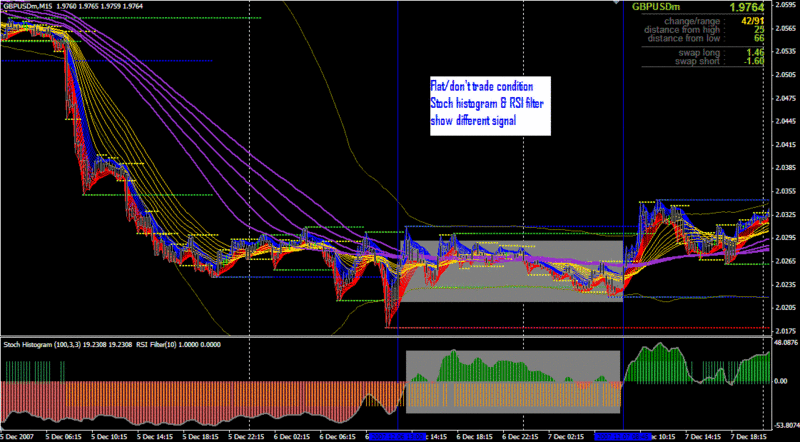 Recommended pair G/U, E/U dan lain2 yg spread tak tinggi.