Joined

Oct 17, 2009
Messages

4,417
Reaction score

293
Points

46
World's Longest Tongue - woman
The longest tongue for a female is that of Annika Irmler at 7 centimetres (2.76 in). Tongue and rulerGerman schoolgirl Annika Irmler has licked her way into the Guinness Book of Records (before Stephen Taylor at 2001) with her whopping seven centimetre tongue.
"My friends always said I had an incredibly long tongue - I could make lots of money with it one day," said Annika.
The twelve-year-old from Tangstedt, nearAnnika and her tongue Hamburg,
can lick the ice cream from the bottom of a cornet
- while her friends have to use their fingers.
Stick it out
"I'm just proud that now people everywhere can read about me and my tongue," she said.
"On my first day at school I had to stick my tongue out for everyone."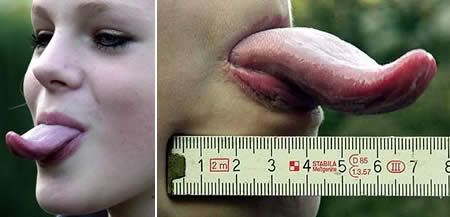 Last edited: