Legendary Member

Messages

13,525
Joined

Jul 22, 2006
Messages

13,525
Reaction score

3,279
Points

196
Petikan temubual dgn pendakwah dan pengkaji isu Syria, Ustaz Nazmi Karim:
Kebangkitan di Syria berlaku pada Mac 2011. Puncanya sekumpulan kanak-kanak sekolah rendah di sebuah bandar bernama Dar'a.
Kanak-kanak ini conteng dinding sekolah dengan perkataan 'Ash-sha'ab yurid isqaat an-nizam' bermaksud 'rakyat hendak jatuhkan kerajaan'.
Mereka tulis perkataan itu bukan sebab diajar, tetapi masa itu berlakunya Arab Spring iaitu kebangkitan negara Arab di Tunisia, Yaman dan Mesir. Apabila kebangkitan itu, semua negara ini tulis slogan yang sama iaitu "Ash-sha'ab yurid isqaat an-nizam" ketika berdemonstrasi. Kanak-kanak ini tidak tahu apa-apa.
Polis datang ke sekolah dan mengarahkan sekolah ditutup. Kanak-kanak yang terlibat ditangkap, dipenjarakan dan diseksa. Antara seksaan yang dikenakan ialah dicabut kuku mereka.
Keluarga kanak-kanak ini datang ke balai minta anak-anak mereka dibebaskan, tetapi polis kata: "Lupakan anak engkau dan engkau buat yang lain. Ataupun engkau hantar bini engkau di balai polis, kami akan buat bini engkau mengandung lagi sekali".
Ayat ini yang saya dengar sendiri daripada orang Syria bercerita ketika kes itu berlaku. Rentetan itu, orang kampung mula keluar berdemonstrasi aman dan itu merupakan kali pertama rakyat Syria buat demonstrasi aman minta anak dibebaskan. Sebelum ini, mereka memang tidak berani lawan kerajaan langsung kerana kerajaan memang amat zalim.
Entah bagaimana, mereka yang berdemonstrasi aman ini pula akhirnya ditembak anggota keselamatan. Ramai yang mati.
Peristiwa ini tersebar ke seluruh Syria. Kebetulan, masa itu di negara Arab yang lain sudah berlaku kebangkitan.
Rakyat Syria memang tidak fikir untuk lawan kerajaan, tetapi mereka hanya hendak kanak-kanak yang ditahan itu dibebaskan. Itu saja.
Apabila sudah jadi begitu, mereka pun tidak tahan. Setelah 6 bulan rakyat Syria ditangkap, diseksa dan dibunuh, maka muncullah Tentera Pembebasan Syria (FSA). FSA merupakan sukarelawan rakyat Syria yang hendak pertahankan maruah dan akidah mereka. Mereka yang mula pertahankan keluarga sendiri daripada kerajaan pimpinan Bashar al-Assad.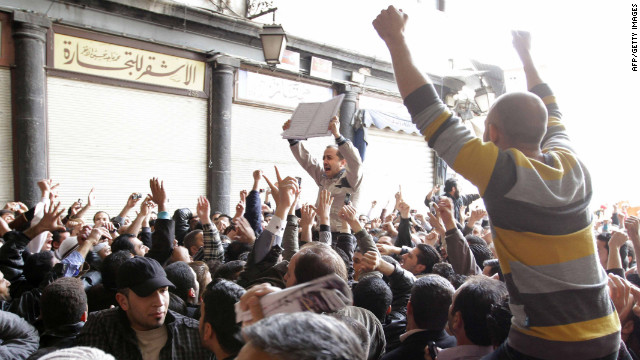 Hundreds of Syrians march in Damascus in March 2011, chanting "Daraa is Syria" as protests spread throughout the country.
sumber
http://www.sinarharian.com.my/wawancara/konflik-syria-petanda-akhir-zaman-1.213326