Joined

Jan 23, 2008
Messages

564
Reaction score

0
Points

10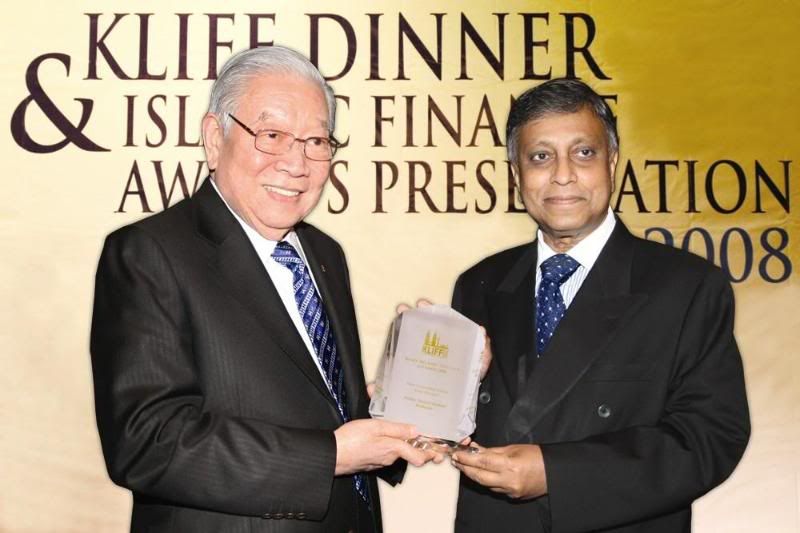 Tahniah ...Public mutual lagi....
Anugerah Pengurus Dana Islam Terkemuka untuk 2
tahun berturut-turut
Anak syarikat milik penuh Public Bank, Public Mutual memenangi anugerah
Pengurus Dana Islam Terkemuka bagi 2 tahun berturut-turut di majlis penyampaian
Tahun 2008 Anugerah KLIFF (Forum Kewangan Islam Kuala Lumpur) Kewangan
Islam ke-5. Anugerah tersebut disampaikan oleh Y.B Tan Sri Nor Mohamed
Yakcop, Menteri Kewangan II kepada Pengerusi Public Mutual Tan Sri Dato' Sri
Dr. Teh Hong Piow di majlis penyampaian anugerah tersebut yang diadakan pada
18 November 2008 di Hotel Istana Kuala Lumpur.
Tahun 2008 Anugerah KLIFF Kewangan Islam ke-5 dikendalikan oleh The Centre
for Research and Training (CERT) dengan Halal Industry Development
Corporation (HDC), dengan kerjasama Dow Jones Islamic Market Indexes (DJIM),
the International Institute of Islamic Finance (IIIF) dan Messrs Hisham, Sobri &
Kadir (HSK).
Tan Sri Teh menyatakan perasaan bangga bahawa Public Mutual sekali lagi
memenangi anugerah yang berprestij ini. "Anugerah ini merupakan anugerah ke-
121 yang dimenangi oleh Public Mutual sejak tahun 1999. Memenangi anugerah
tersebut bukan sahaja memperkukuhkan kedudukan pemimpinan kami di industri
unit amanah Islam tetapi juga mengesahkan komitmen kami dalam mencapai
kecemerlangan," tambah beliau. Tan Sri Teh mendedikasikan anugerah tersebut
kepada lembaga pengarah Public Mutual, badan pengurusan, kaki-kakitangan,
pasukan agensi and para pelabur atas sokongan dan kepercayaan kuat yang
diberikan tahun demi tahun.
Public Mutual merupakan pemimpin dalam sektor dana unit amanah Islam swasta
di Malaysia. Pada akhir bulan September 2008, syarikat tersebut menguruskan 24
dana Islam dengan jumlah aset Islam di bawah pengurusan syarikat sebanyak
RM8.5 bilion. Ini merupakan 50.7% daripada bahagian pasaran sektor dana unit
amanah Islam swasta. Syarikat tersebut juga merupakan pengurus dana unit amanah
Islam yang paling banyak menerima anugerah di Malaysia, memenangi sebanyak
32 anugerah dana Islam. Ini termasuk "Pengurus Dana Islam Terbaik di Asia untuk
tahun 2006 and 2007" daripada Failaka Advisors, Dubai, pemimpin yang diiktiraf
dalam bidang penyelidikan dana-dana Islam.
..2/2
Public Mutual merupakan syarikat unit amanah swasta yang terbesar di Malaysia,
mengurus sebanyak 62 dana. Syarikat tersebut mempunyai seramai lebih 2,000,000
pemegang akaun yang diservis oleh seramai lebih 40,000-perunding unit amanah.
Pada akhir bulan September 2008, jumlah nilai aset bersih dana yang diuruskan
oleh syarikat tersebut adalah sebanyak RM24.1 bilion.