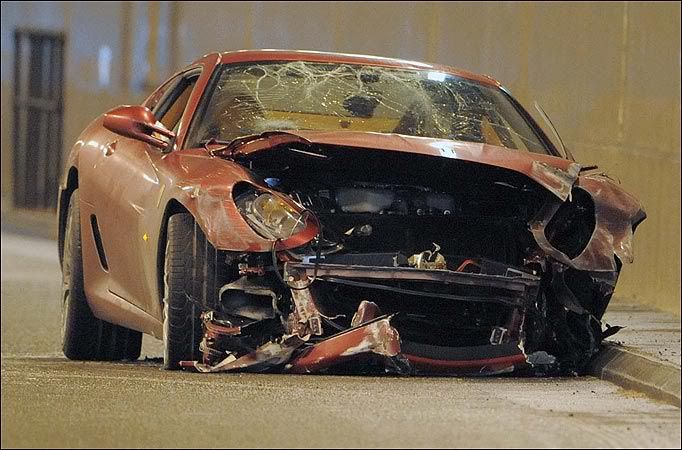 THIS was Cristiano Ronaldo's £200,000 Ferrari after he crashed it yesterday, just TWO DAYS after collecting the keys.
The winger, 23, lost control of the 200mph supercar on his way to a Manchester Utd training session. He hit a tunnel wall but walked away unhurt. Cops were investigating last night.
But grinning Ronaldo brushed off his terrifying smash — with a cheery thumbs-up at the wheel of his £150,000 Bentley.
The Manchester United idol headed straight to training after the accident, which scattered debris across two lanes of a carriageway inside a tunnel.
And he was all smiles as he left the Red Devils' Carrington complex in the swish new Bentley Continental — another from his fleet of luxury motors.
Flying
Portuguese winger Ronaldo lost control of the 200mph Ferrari 599 GTB Fiorano as he drove beneath a Manchester Airport runway yesterday morning.
It crashed into a roadside barrier and bounced off a wall, sending one wheel flying 200 yards through the air and leaving skidmarks on the tarmac.
I'm all right ... Ronaldo's signal as he leaves training in Bentley
I'm all right ... Ronaldo's signal as he leaves training in Bentley
Yet the £110,000-a-week ace emerged without a scratch and astonished passers-by saw him standing beside the wreck.
He will only need to save for a fortnight for a new Ferrari, but will be at the back of a queue.
Last night police sources said they would be investigating whether the star was speeding or racing in the car, which he had imported from his homeland just two days earlier.
He will have to give a statement. One police source said: "The state of the car would suggest he wasn't doing 30mph. We will be speaking to him." Onlooker Jody Lomax was driving behind Ronaldo as the crash happened.
He said: "The Ferrari went straight into the wall, his front left-hand wheel came off and then Ronaldo got out of the car.
"I was shocked. He was all right, walking — but he was a bit shaken, who wouldn't be?"
Witness Dena Glass, 64, said: "The front of the car was completely mangled and there was bits of metal all over the place.
"We had to dodge around the debris and saw this man standing by the side of his car looking very forlorn and bewildered.
"Then my daughter said, 'Oh my God, that's Cristiano Ronaldo'! He didn't look to have any injuries, which is amazing because the car looked really bad." Businessman Philip Jones, 58, took pictures of the crash aftermath. He said: "The driver was exceptionally lucky to get out.
"The airbags had gone off and the bonnet was up. It looked like he'd hit the tunnel wall."
Ronaldo, who had been on his way to training from his £4million home in Alderley Edge, Cheshire, passed a routine breath-test after the 10.20am crash.
He hitched a lift with Utd goalie Edwin van der Sar, who was travelling behind him, and arrived at Carrington an hour later.
Advertisement
Relatives dropped off the Bentley for him as he trained. And Ronaldo drove them all back to his pad after the session ended.
The star bought the flash Bentley last summer in place of a similar convertible model.
He has spent around £2million on motors since arriving at Old Trafford five years ago.
He blew £350,000 on a Rolls-Royce Phantom — and £150,000 more on a personalised number plate for it. His garage has also included two Porsche Cayennes, a BMW M6 and a Porsche 911.
His V12-engined Ferrari, which did 0-62mph in just 3.7 seconds, was loaded on to a recovery truck after yesterday's crash, covered in a black sheet.
Crunch
Police said no other cars or people were involved in the accident in a 50mph zone.
A Greater Manchester Police spokesman said: "We are investigating a road traffic collision in the airport tunnel on the A538.
Supercar ... Ferrari like ace Ronaldo's
Supercar ... Ferrari like ace Ronaldo's
"It appears a Ferrari has collided with a barrier. Inquiries are continuing. The driver has been spoken to at the scene.
"Our Collision Reconstruction Unit will be looking at how fast he was going — and exactly what happened to cause this." A Utd spokesman said: "Cristiano's fine and training as normal."
Ronaldo is due at training again today and is expected to line up in Sunday's crunch Premier League clash with title rivals Chelsea at Old Trafford.
Sources in Portugal said the star's mum Dolores Aveiro, 54, was "very worried" after hearing of the smash. An insider said: "She was very frightened and spent the whole day resting."
Ronaldo bought the Ferrari, with all the extras, from a Portuguese dealership last month. It was delivered to him on Tuesday. The insider said: "He was insured, and that paperwork went through on December 19."