Active Member

Joined

Mar 31, 2014
Messages

1,501
Reaction score

322
Points

41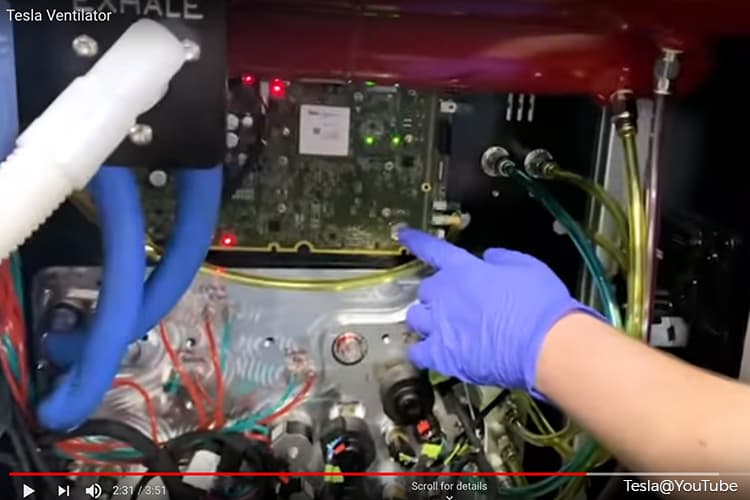 NEW YORK (6 April): Jurutera Tesla Inc menunjukkan prototaip ventilator pada malam Ahad menerusi video yang diterbitkan melalui saluran YouTube syarikat, berikutan hospital-hospital di seluruh negara dibanjiri oleh pesakit coronavirus dan menghadapi kekurangan peranti itu.
Reka bentuk ventilator bergantung sepenuhnya bahagian-bahagian kereta Tesla, salah seorang jurutera berkata, membolehkan syarikat itu untuk memindahkan semula stok yang sedia ada dan menghasilkan peranti itu dengan cepat.
Video itu muncul dua minggu selepas Ketua Eksekutif Elon Musk berkata Tesla merancang untuk membuka semula kilangnya di New York untuk menghasilkan ventilator.
Garis masa untuk pengeluaran tidak dinyatakan dalam video.
"Masih banyak kerja yang perlu dilakukan," kata salah seorang jurutera, "tetapi kami akan memberikan usaha yang terbaik."
Kerajaan-kerajaan di seluruh dunia telah merayu kepada syarikat-syarikat pembuat kereta dan aeroangkasa untuk membantu mendapatkan atau menyediakan ventilator dan peralatan perubatan lain di tengah-tengah peningkatan jumlah jangkitan coronavirus.
Lebih daripada satu juta orang telah dijangkiti di seluruh dunia oleh coronavirus, manakala lebih daripada 65,000 telah terbunuh. Amerika Syarikat mempunyai bilangan kes paling banyak melebihi 300,000.
Pada 30 Mac, Ford Motor Co berkata ia akan mengeluarkan 50,000 ventilator dalam masa 100 hari berikutnya di kilang Michigan dengan kerjasama unit penjagaan kesihatan General Electric, dan kemudiannya boleh menghasilkan 30,000 sebulan seperti yang diperlukan.
Musk berkata pada 31 Mac bahawa Tesla merancang untuk membekalkan ventilator yang diluluskan oleh FDA secara percuma kepada hospital-hospital di kawasan-kawasan yang terdapat pengeluar pembuat kereta elektrik.
Financial Times melaporkan bahawa peranti yang disumbangkan oleh Musk ke beberapa hospital di New York City bukanlah jenis ventilator yang telah diminta untuk digunakan dalam unit rawatan intensif. Sebaliknya, mereka adalah Mesin Tekanan Positif Udara Bilevel, yang biasanya digunakan untuk merawat apnea tidur tetapi baru-baru ini diluluskan oleh FDA sebagai alternatif sekiranya berlaku kekurangan ventilator.
Tesla tidak segera memberi maklum balas apabila diminta memberi komen.
=================================================================================
Tesla engineers show ventilator prototype on YouTube
NEW YORK (Reuters) - Engineers at Tesla Inc (TSLA.O) showed a prototype for a ventilator on Sunday evening in a video published on the company's YouTube channel, as hospitals around the country overwhelmed by coronavirus patients face device shortages.
The design for the ventilators relies heavily on Tesla car parts, one of the engineers said, enabling the company to redeploy existing stock and produce the devices quickly.
The video comes two weeks after Chief Executive Elon Musk said Tesla planned to reopen its New York factory to produce ventilators.
The timeline for production was not specified in the video.
"There's still a lot of work to do," said one of the engineers, "but we're giving it our best effort."
Governments globally have appealed to automakers and aerospace companies to help procure or make ventilators and other medical equipment amid the increasing number of coronavirus infections.
More than a million people have been infected worldwide by the coronavirus, while over 65,000 have been killed. The United States has the most number of cases at above 300,000.
On March 30, Ford Motor Co (F.N) said it would produce 50,000 ventilators in the following 100 days at a plant in Michigan in cooperation with General Electric's (GE.N) healthcare unit, and could then build 30,000 per month as needed.
Musk said on March 31 that Tesla planned to supply FDA-approved ventilators free of cost to hospitals within regions where the electric carmaker delivers.
The Financial Times has reported that the devices donated by Musk to some New York City hospitals were not the type of ventilators that have been in demand for use in intensive-care units. Rather, they were Bilevel Positive Airway Pressure machines, typically used to treat sleep apnea but recently approved by the FDA as an alternative in the event of a ventilator shortage.
Tesla did not immediately respond to a request for comment.
Sumber : Reuters
Last edited: