CG Hardcore Club
Paid Membership
Joined

Mar 1, 2008
Messages

62,520
Reaction score

426
Points

531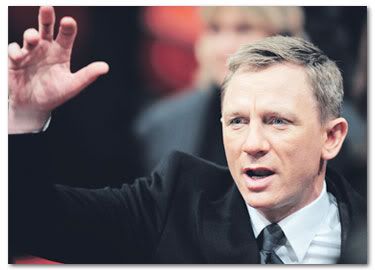 LONDON - Aktor terkenal, Daniel Craig (gambar) berjanji kepada peminat bahawa dia akan melakonkan lebih banyak babak asmara dalam filem James Bond yang seterusnya, lapor sebuah akhbar semalam.

Aktor membuat janji tersebut selepas ramai peminat merungut kerana kurangnya babak seperti itu dalam filem Bond terbaru, Quantum of Solace.

Craig memberitahu bahawa dalam filem Bond terbaru tersebut babak asmara terpaksa dikurangkan sebagai kesinambungan filem sebelumnya, Casino Royale.

Menurutnya, Bond sedang berkabung dalam filem Quantum of Solace bagi menghormati kematian bekas kekasihnya dalam filem Casino Royale.

"Kami tidak boleh melakukan terlalu banyak babak panas kerana ia akan bertentangan dengan kesinambungan filem sebelum ini.



"Bagaimanapun, dalam filem akan datang kami akan memperbanyakkan babak asmara kerana desakan ramai peminat

," katanya. - Agensi

camni punye org pon ade ke???