Joined

Aug 28, 2007
Messages

819
Reaction score

15
Points

15
Di sini saya ingin share satu system yg simple yg di berikan oleh sifo @ rakan saya.Saya telah menggunakan system ini hampir 3 bulan dan telah terbukti keberkesanannya.
Chart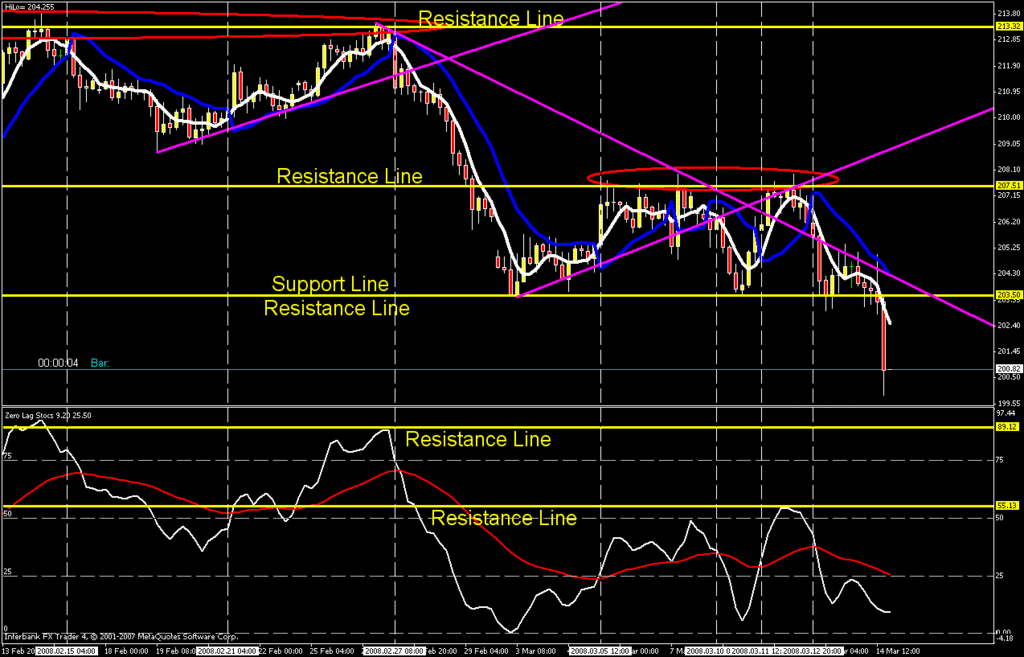 Here is a 4hr.
From this chart u can see various things going on, specifically how one could get into a trade at the bottom and sell at the top and vise versa. Pay close attention how the ZLS and ZL MACD bottoms/tops out.
Then notice when the 5 SMA crosses the gann hi/lo and how that correlates to the ZLS and ZL MACD. Lastly, you might want to study divergence as well. . . notice how price was steady going up and the ZL MACD was going down on that 800 pip move up, classic entry to sell current position and look to get short. . .
Also, notice how on this 1,000 pip move up how price had bottomed out close ar'd the 15 area on the ZLS. . . classic buy entry and hold. Typically on the 4hr chart once ZLS cross from the bottom the move up is good for at least 33-500 pips. But in this case I would flip to the daily to see what it is doing. If it too has crossed then this move would good for further pipage esp. if price is above daily hi/lo gann.
Also, notice on the 600 pip move down how price went back up a bit but the 5 SMA and gann hi/lo stayed apart and never crossed back up, this is an indication that further downside in forthcoming. . .
When 5 SMA close has crossed hi/lo Gann and ZL Stoch has confirmed it with a cross then I put in my entry buy/sell. . . Typically on a 4hr chart this move is good for at least 150-300 pips as can be seen from the chart.
However, one has to have an idea of his or her TP target. . . This will vary depending on your trading style and capital investment. I typically use intraday, daily, weekly and monthly pivots for this as I have explained before. The reason for the variation is, it depends on if I'm scalping, trading short or long term which is dictated by the trend and my position. . .
Also notice support and resistance levels. . . As can be seen price has either been supported or rejected at certain levels. This is where one could have bought or sold with reasonable stops (above or below) with minimal risk using ZL Stoch, 5 SMA and hi/lo Gann as a guide. . .
The way I use this system for buy/sell opportunity is with hi/lo Gann (blue line), 5 SMA close (white line), ZL Stoch. indicator, s/r line (yellow lines) and simple trend lines (magenta lines).
I'm not going to go into detail regarding this chart as I think it is very self evident what's going here. . . I have pointed out a few things on this simple chart that can be studied to give you a clear view how I trade the GJ pair. . .
If price breaks a level then the next target is this, a break of this target will see next target at XXXX. Well I'm using intraday/daily pivots as my guide/road map in addition to these very simple methods.
Couple this with other TA methods and you'll be trading mostly winners in no time. . . More importantly, notice that this was just 7 trades collecting 3,200 pips over 16 days. . .
This is why set-ups are so great if you have patience. I also hope this answers question by some members how one can get into a trade at the bottom and top. . .
This also shows how one does not have to sit at the computer everyday and trade. That's a clear way to gain pips and lose them right back and some esp. if you are suffering from sleep deprevation. Also, notice how naked this chart is for the most part. You can see what going on in this picture very clearly. Not to say that you won't add fibs, trend lines, etc. . . But at least get a clear picture where rice is head and WHY!
UPGRADE VERSION
1.
Upgrade from Darkkiller
UPDATE 1
: Simple Scalping Style --- >
Here
Last edited: