Joined

Jul 3, 2011
Messages

6,095
Reaction score

1
Points

65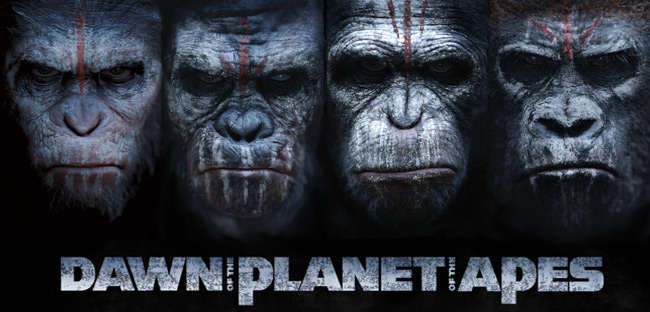 http://www.youtube.com/watch?v=h_9-3Fj3ZdI
TRAILER
Matt Reeves' Dawn of the Planet of the Apes in now in production and FOX has released a familiar looking logo from the film. I'm hoping this ends up being just as good as the first one was. We'll soon see if Reeves, who also directed Let Me In and Cloverfield, can pull it off.

The movie stars Andy Serkis, Jason Clarke (Zero Dark Thirty), Gary Oldman (The Dark Knight Rises), Keri Russell (Mission Impossible III), Toby Kebbell (Wrath of the Titans), Kodi Smit-McPhee (Let Me In), Enrique Murciano (Black Hawk Down), Kirk Acevedo (The Thin Red Line), and Judy Greer (The Descendants).
Fox has released a teaser photo for Matt Reeve's Dawn of the Planet of the Apes. Looks like the apes can shoot guns now. The image came with the following tag line:
Evolution becomes revolution.
Berikut adalah koleksi gambar yang timbul dari set Dawn Matt Reeve ini Planet daripada beruk. Imej-imej yang mempunyai Jason Clarke, Keri Russell, Andy Serkis, dan sekumpulan pelakon lain memakai sut gerakan menangkap untuk peranan beruk


Sekuel ditetapkan 15 tahun selepas peristiwa RISE OF THE PLANET OF THE APES. Mereka juga mendedahkan bahawa satu bahagian cerita akan memberi tumpuan kepada "sekumpulan saintis manusia yang berjuang untuk terus hidup bersendirian di San Francisco." Bahagian lain cerita akan tertumpu kepada "bERUK pINTAR Caesar [yang berjuang untuk] mengekalkan penguasaan ke atas kerajaannya."
Fox telah menetapkan filem untuk siaran pada 23 Mei, 2014. Semoga ia berakhir menjadi sekuel teguh baik.
The sequel will pick up where Rise of the Planet of the Apes left off. There are no details on the story or plot. We all know what the outcome will be; this is just the ride that's going to take us there. Here's a little synopsis:
"Dawn of the Planet of the Apes" continues the story of how ultra-intelligent simian Caesar (Andy Serkis) presides over the fall of human civilization. After the apes break out of their facility, a virus breaks out that causes the collapse of human society. The new project is taking the story to the next level, with the apes on the path to emerge as society's new rulers.

The screenplay is being written by Scott Z. Burns, Amanda Silver, and Rick Jaffa, and I hope Reeve does a solid job bringing the movie to life. Dawn of the Planet of the Apes is set to be released on Memorial Day 2014.
Rise of the Planet of the Apes director Rupert Wyatt was supposed to direct the sequel to the film, Dawn of the Planet of the Apes, but apparently he's left the project. This is a bloody shame because Wyatt did a hell of a job with the first film! I loved what he did with it, and I was looking forward to seeing his vision of the next installment of the story he started.
According to Deadline, the reason behind this news was that Wyatt didn't feel comfortable making the film by the May 23rd, 2014 release date that the studio announced last May. That seems like plenty of time to get the film made, unless he's planned on making another film during that time. There's no clarification on that. The script was already completed by Rick Jaffa and Amanda Silver, and the studio loves it. There's obviously some strange things happening over at Fox, and they won't comment or confirm, which means it's not 100% certain that Wyatt is walking away from the project just yet.
It's not like Wyatt doesn't have anything else going on though. He's also attached to direct a film called Agent 13 for Universal with Charlize Theron. There's no information on when that will go into production though.
I hope Wyatt doesn't end up leaving the project because he has a solid handle on the story that needs to be told. If Wyatt does leave, who do you think would be a good choice to take his place in the director's chair?
Twentieth Century Fox and director Matt Reeves are in the midst of prepping up for Dawn of the Planet of the Apes, but it doesn't look like James Franco is going to be a part of it this time around. Here's what the actor had to say about it in a recent interview with MTV,


I was going to be a small part of the next one. There was a moment when Rupert Wyatt was going to direct the second one. A lot of the human characters that were in the first movie were dead in the sequel that Rupert was going to direct. But there was one scene, between Caesar and my character, maybe even just like on a video that was left behind, but then a lot of things happened, like [former Fox co-chairman] Tom Rothman who was a big part of the first movie, left. Now Rupert's not a part of it so I don't know. My guess is I won't be in it. Nobody's talked to me since Rupert left.
I sounds to me like Franco is out, it shouldn't really matter anyway as it sounds like his part in it wouldn't have been big anyway. I really enjoyed the first movie, it was a great film, and I hope Reeves will be able to make a sequel that's just as good or better. It will be released on May 23rd, 2014.

Fox is gearing up to shoot Dawn of the Planet of the Apes in the Spring, with Matt Reeves (Cloverfield) taking over as director and Andy Serkis reprising his lauded motion-capture performance as simian revolutionary Caesar from Rise of the Planet of the Apes – the 2011 prequel/reboot that restored life to the 45-year old sci-fi movie franchise.

Dawn picks up fifteen years after the events of Rise, which culminated with Caesar escaping the confines of an abusive primate sanctuary and leading his fellow non-human inmates to seek refuge in the forest near San Francisco. Meanwhile, human kind has been ravaged by the genetically-engineered virus inadvertently unleashed during the previous film, leaving most of the population dead (including Caesar's adapted human father and the scientist responsible, played by James Franco).

Heat Vision is reporting that one of the human leads in Dawn is Jason Clarke, though his character remains under-wraps. The most recent script draft penned by Mark Bomback (The Wolverine), who came aboard after Reeves took over from Rise director Rupert Wyatt, features two story threads, which can be summarized as follows:

One focus is on the group of human scientists who are struggling to survive alone in San Francisco. Another aspect of the story is the struggle of intelligent ape Caesar, played by a returning Andy Serkis, to maintain dominance over his kingdom.

Clarke has been in the 'biz for almost twenty years, appearing on television shows like Brotherhood and The Chicago Code, as well as playing roles in such films as Public Enemies, Wall Street: Money Never Sleeps and Lawless in recent years. However, it's his performance as an unflinching interrogator (re: torturer) in Zero Dark Thirty that's helping to catapult him to leading man status, similar to his ZDT costar Chris Pratt joining Guardians of the Galaxy. In addition, Clarke appears in Baz Luhrmann's The Great Gatsby and Roland Emmerich's White House Down in the upcoming months. Suffice it to say, he's having a good year already.


Caesar returns in 'Dawn of the Planet of the Apes'

Wyatt balanced B-movie action and thrills with a Shakespearean tragedy of fathers and sons in Rise, with audiences proving very responsive to his approach telling the story from Caesar's perspective. However, in my humble opinion, the movie was not as effective with human elements and political overtones as it might have been, and by the sound of things, the sequel is already taking steps to improve in those areas.

Reeves, if nothing else, knows how to craft an entertaining blockbuster, while also finding the emotional core of a story (even within a far-fetched sci-fi setting). Similarly, for me, Clarke is a definite upgrade in the leading (hu)man category over Franco, so this particular sequel appears to be on the right track, taking all things into consideration.

Dawn of the Planet of the Apes opens in theaters on May 23rd, 2014.
​
Last edited: