Active Member

Joined

Mar 31, 2014
Messages

1,487
Reaction score

320
Points

41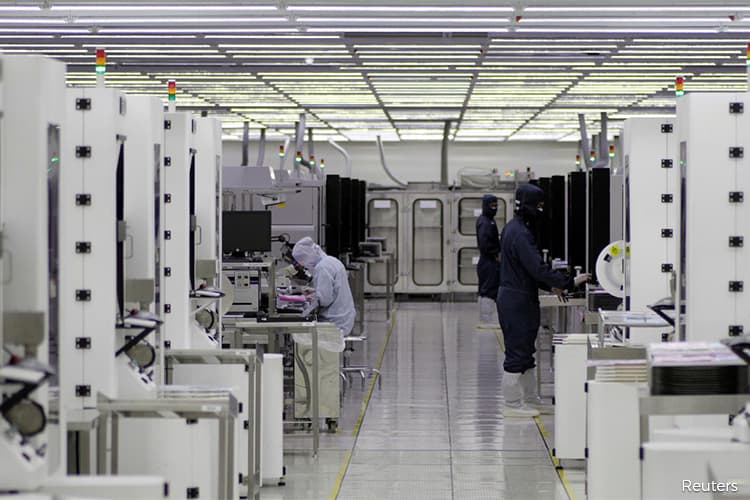 (31 Mac): Meskipun koronavirus menjadi perbincangan utama tentang kemelesetan perolehan terhadap kebanyakan saham utama Asia, terdapat industri yang masih bertahan: iaitu pembuatan cip.
Perintah kawalan pergerakan di seluruh dunia ekoran daripada virus itu serta penguncupan terhadap pengeluaran telah mencetuskan jualan sewenang-wenangnya di seluruh industri, serta ramalan pendapatan yang merudum bagi suku ini dan suku seterusnya -- namun, ia terkecuali bagi industri teknologi.
Micron Technology Inc. pada minggu lepas melaporkan pelarasan pendapatannya telah mengatasi Street yang dianggarkan sebanyak 24% dan meramalkan hasil lebih kukuh daripada yang dijangkakan, telah menimbulkan keyakinan terhadap prospek pembuat chip yang lain. Ia adalah berikutan dari kebanyakan masyarakat di dunia yang terlibat dalam ekonomi utama bekerja atau belajar dari rumah, menjadikan perkhidmatan dalam talian dan e-dagang semakin berkembang, berikutan permintaan stok untuk penyimpanan awan serta pemulihan bagi harga cip memori.
"Sudah tentu, permintaan untuk cip 'server' semakin meningkat kerana semakin ramai yang membeli-belah dalam talian dan bekerja dari rumah menggunakan komputer riba," kata Lee Seung-Hoon, ketua ekuiti di DB Asset Management. "Bagi industri teknologi, permintaan untuk telefon bimbit dan peralatan rumah telah melonjak. Namun, trend baru ini memberi pandangan bahawa para pembuat chip boleh melonjak lebih cepat berbanding daripada industri lain, ketika jangkitan virus meningkat. "
Musim perolehan bermula pada bulan April ketika para pelabur yang berminat melihat keuntungan luar dari kebiasaan pada suku pertama. Samsung Electronics Co, pembuat chip memori terbesar di dunia, akan memberi gambaran yang lebih jelas tentang prospek industri bagi hasil pendapatan permulaan yang dijadualkan pada minggu depan. Saham-saham syarikat itu paling banyak dijual oleh pelabur asing di kalangan ahli Kospi pada bulan Mac.
Saham Samsung Electronics jatuh sebanyak 1.5% di Seoul, menghapus keuntungan lebih awal. Peer SK Hynix Inc. turun sebanyak 2%.
Berikut adalah tiga carta yang membuktikan bahawa pembuat chip global mempunyai prospek yang lebih baik daripada kebanyakan industri untuk perolehan musim ini:
Eksport Korea
Eksport semikonduktor permulaan Korea meningkat lagi pada bulan Mac, memberikan pemulihan dari kejatuhan pada akhir 2019, tidak terkesan oleh wabak koronavirus global.
Perbezaan begitu jelas kemerosotan dalam Indeks Semikonduktor Bloomberg Asia disebabkan oleh kebimbangan virus yang akan mengganggu rantaian bekalan dan permintaan.
Perolehan Micron
Ramalan perolehan Micron Technology dan prospek jualan yang optimis memberi petunjuk yang baik kepada pembuat chip lain di Asia dan yang lain, mengimbangi permintaan yang perlahan untuk telefon pintar dan peralatan rumah.
Harga DRAM
Kitaran perolehan industri cip telah berubah sejajar dengan perubahan harga semikonduktor.
DRAMeXchange telah menaikkan ramalan harga cip server DRAMnya untuk suku kedua kepada keuntungan 20%, bertambah dari ramalan awalnya dengan keuntungan 15%, memetik dari permintaan yang semakin meningkat daripada pengeluar 'server' dan pembekal perkhidmatan awan (cloud).
====================================================================
Working from home gives chipmakers boost while others suffer
(March 31): As the coronavirus prompts talk of an earnings recession for most Asian emerging stocks, there's an industry that's holding up: chipmaking.
The worldwide lockdowns due to the virus and the ensuing contractions in output have sparked indiscriminate selling across industries, and dismal earnings forecasts for this quarter and beyond -- except for the tech industry.
Micron Technology Inc. last week reported adjusted earnings that beat Street estimates by 24% and predicted stronger-than-expected revenue, fueling optimism about other chipmakers' prospects. With most of the population in major economies worldwide working or learning remotely, online and ecommerce services are booming, stoking demand for cloud storage and a recovery in memory-chip prices.
"Definitely, demand for server chips is on the rise as people increasingly go on a shopping spree online and are working remotely with laptops," said Lee Seung-Hoon, head of equity at DB Asset Management. "For the tech industry, demand for handsets and home appliances has been hit. But this new trend suggests chipmakers could rebound faster than other industries, once virus infections peak."
The earnings season kicks off in April with investors keen to look beyond the abysmal first quarter. Samsung Electronics Co., the world's largest memory chipmaker, will give a clearer picture of the industry's outlook in its preliminary earnings release scheduled next week. The company's shares have been the most sold by foreigners among Kospi members in March.
Shares of Samsung Electronics fell as much as 1.5% in Seoul, erasing an earlier gain. Peer SK Hynix Inc. was down as much as 2%.
Here are three charts with evidence that global chipmakers have better prospects than most industries this earnings season:
Korean Exports
Korea's preliminary semiconductor exports gained further in March, extending a rebound from a low in late 2019, shrugging off the effects the global coronavirus outbreak.
The advance contrasts with a slump in the Bloomberg Asia Semiconductor Index because of concern the virus would disrupt supply chains and destroy demand.
Micron's Earnings
Micron Technology's forecast-topping earnings and optimistic sales outlook bode well for other chipmakers in Asia and elsewhere, offsetting slow demand for smartphones and home appliances.
DRAM Prices
The chipmaking industry's earnings cycle has historically moved in tandem with semiconductor prices.
DRAMeXchange has raised its DRAM server chip price forecast for the second quarter to a gain of 20%, up from its earlier forecast for a gain of 15%, citing growing demand from server manufacturers and cloud service providers.
Sumber : the edge markets