Legendary Member

Joined

Nov 23, 2012
Messages

12,834
Reaction score

2,454
Points

236
Agensi Angkasa Eropah (ESA) memberi amaran bahawa Bumi berhadapan dengan kemungkinan dihentam asteroid dalam masa dua tahun dari sekarang. Ketika artikel ini ditulis, jarak asteroid ini adalah sekitar 173,169,520 kilometer dan jaraknya boleh dilihat secara langsung.
Asteroid yang semakin menghampiri Bumi ini telah dimasukkan ke dalam Senarai Risiko agensi angkasa itu.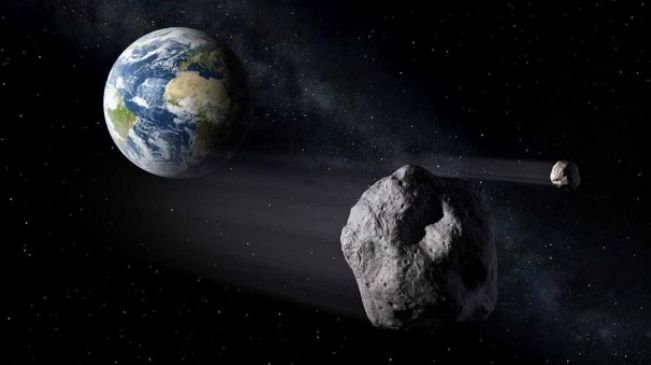 Senarai Risiko ESA menyenaraikan objek-objek yang berada berhampiran dengan Bumi dan mungkin menghentam planet kita pada masa depan, dan salah satu asteroid tersebut termasuklah JF1 2009.
JF1 2009 mengorbit matahari dan berada cukup dekat dengan planet kita dan menimbulkan kebimbangan para pakar. Asteroid JF1 mula-mula ditemui pada tahun 2009 dan Makmal Propulsion Jet NASA telah memantaunya selama sedekad yang lalu.
Pakar-pakar menganggarkan bahawa JF1 berukuran kira-kira 130 meter dan percaya mempunyai saiz kira-kira sebesar Piramid Besar Giza di Mesir dan bergerak pada kelajuan 94,951 kilometer sejam.
Agensi ruang angkasa itu telah menugaskan sistem pengawasan asteroid automatik yang dikenali sebagai Sentry untuk dengan mengawasinya.
Menurut NASA, Sentry adalah sistem pengawasan perlanggaran yang sangat automatik yang sentiasa mengimbas senarai asteroid paling terkini untuk kemungkinan impak masa depan dengan Bumi sepanjang 100 tahun yang akan datang.
Mereka percaya jika ia menghentam Bumi, ia bersamaan dengan meletupkan 230 kilotan TNT. Letupan sebegini membuatkan letupan bom atom Hiroshima pada tahun 1945 menjadi kerdil, yang mana melibatkan letupan 15 kilotan TNT.
Laporan pada tahun 2018 yang diserahkan kepada White House berkenaan bahaya impak asteroid menyatakan bahawa objek berhampiran Bumi lebih besar dari 140 meter diameter boleh menyebabkan kerosakan yang sangat dahsyat.
Asteroid JF1 dijangka menghampiri Bumi pada 6 Mei 2022 dan akan berada dalam jarak 0.08601 unit astronomi atau sekitar 7.9 juta batu dari pusat planet ini. Walaupun JF1 dijangka hanya akan melewati Bumi, ESA mengakui bahawa asteroid ini masih mempunyai kemungkinan terhempas di planet kita.
Seperti yang ditunjukkan dalam Senarai Risiko ESA, peluang JF1 untuk menyebabkan peristiwa dahsyat di Bumi adalah 1 dalam 4,000. Kemungkinan ini lebih besar berbanding dengan asteroid QV89 tahun 2006, satu lagi asteroid yang termasuk dalam Senarai Risiko ESA.
Agensi angkasa itu menunjukkan bahawa peluang asteroid QV89 untuk menghentam bumi adalah 1 dalam 7,000 dan meramalkan bahawa ia mungkin menghentam Bumi pada September 2019. Namun, ia tidak berlaku.
Menurut pelbagai kajian saintifik yang dijalankan ke atas objek angkasa lepas, terdapat beberapa faktor yang boleh menjejaskan laluan asteroid ini. Salah satunya adalah lubang kunci graviti.
Lubang graviti adalah kawasan spesifik di angkasa lepas dipengaruhi oleh tarikan graviti objek besar yang berdekatan.
Para saintis percaya bahawa jika objek berhampiran bumi melintasi lubang ini, tarikan graviti dapat mengubah perjalanannya dengan ketara, yang membawa kepada kemungkinan perlanggaran.
Satu lagi faktor yang mungkin boleh mengubah laluan asteroid adalah jika ia bertembung dengan objek lain ketika bergerak melalui ruang angkasa.
Dalam kes JF1 2009, ESA mungkin menjangkakan pelbagai situasi di mana asteroid ini mengubah laluannya dari Bumi. Disebabkan asteroid ini tidak begitu besar, pakar berharap ia terbakar sebaik sahaja memasuki atmosfera bumi, menyebabkan ia pecah menjadi serpihan kecil sebelum menghentam permukaan Bumi.
JF12009 -
https://spacein3d.com/asteroid/2009jf1
Rujukan;
The European Space Agency (ESA) has warned that Earth has a chance of getting hit by an asteroid three years from now.
www.ibtimes.com
The asteroid JF1 is classed as a near-Earth object by the space agency
metro.co.uk