3M's Scotch-Brite Biodegradable Greener Clean Range for Hygienic and Eco-Friendly Cleaning​
Cleans efficiently, reduces waste and conserves the environment​
Have you ever had to choose between products that suited your green, eco-warrior principles and synthetic products that you feel actually get the job done effectively?
With the newly introduced 3M Scotch-Brite™ Greener Clean range of cleaning products there is no compromise as it exceeds the expectations of your inner eco-warrior and your cleaning warrior too.
The Greener Clean range is environmentally friendly as it is made of natural agave plant fibers that are fully biodegradable with exposure to water and cleaning products. The packaging of this range is made with recyclable material and it is packed flat to reduce volume and weight, thereby using lesser resources to transport and store.
The new range is suitable for those who are seeking ways to lead to a greener life while contributing to the sustainability of environment by reusing materials and reducing waste.
There are four products in this Scotch-Brite™ range namely the Non-Scratch Greener Clean Scour Pad, Greener Clean Scrub Sponge, Greener Clean Sponge and the Greener Clean Nat Expand Sponge.
Naturally Non-Scratch
The Non-Scratch Greener Clean Scour Pad effectively scours non-stick surfaces and kitchenware cleanly and effectively without scratching. With 50% of the sponge made from fibrous agave plants, it has undergone an innovative production process so that its fibrous surface easily lifts and removes dirt and oils from surfaces, yet biodegrades naturally with prolonged exposure to water. Upping its green credentials, the packaging is made from 100% recycled material packaging.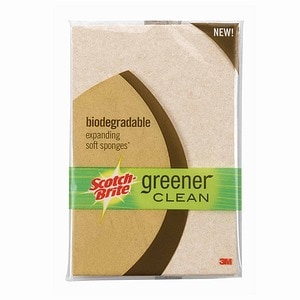 For delicate kitchen ware, use the Greener Clean Scrub Sponge that cleans gently yet thoroughly. Its naturally non-scratch properties enable you to clean the surface of non-stick cookware, ceramic tile and glass range tops without worry.
Naturally Absorbent
Paper towels are a huge contributor to domestic waste. With the Greener Clean Sponge and Greener Clean Nat Expand Sponge, you can stop wasting and start saving the planet one tree at a time, while still keeping your kitchen spotless and dry. The natural fibers and recycled paper in these products are naturally absorbent and can hold up to 10 times their volume in water.
The Greener Clean Sponge is made from up to 23% recycled paper. It is reusable and can outlast more than 30 rolls of paper kitchen towels. Use the Greener Clean Sponge in place of paper kitchen towels to save the Earth and save on your spending too without comprising on cleaning power.
The Greener Clean Nat Expand Sponge comes in a condensed format that reduces packaging, fuel for transportation and space for storage for an overall reduction in carbon emitting fuels that decreases the product's carbon footprint. Just add water to this slim, lightweight, powerhouse of cleaning and watch it expand to take on hours of tough kitchen cleaning. The long lasting sponge can be easily washed and reused.
The Scotch-Brite™ Greener Clean range is available from RM6.95 onwards at selected retailers nationwide. For more information please visit
www.scotch-brite.com/my